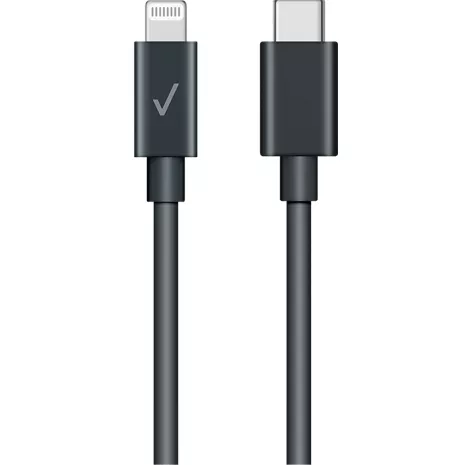 Overview tab selected 1 of 4
Overview Section Start


Keep your devices fully charged with the USB-C to Lightning Cable, 6ft. This tangle-free cable has an extended reach so you can charge in even the most hard-to-reach outlet. Made with up to 50% recycled materials, the eco-friendly cable works with most Verizon USB-C charging solutions, supports USB-C Power Delivery and is Apple certified and UL certified. And, you can simultaneously charge and transfer data to a computer to save time.

Sustainability in action.
This year Verizon has committed to launching its line of sustainable accessories; to help commemorate this occasion, Verizon will be planting one tree for every sustainable Verizon accessory sold up to 1 million trees for 2021.

Fast, powerful charging.
Verizon phone chargers have faster charging and are more energy-efficient for most devices with up to 45% faster charging speed.¹

Quality design.
Verizon accessories go through multiple rounds of rigorous testing for certified quality and durability. Verizon also offers a one-year limited warranty on our charging accessories.

Easily available.
Pick up a Verizon phone charger with your new phone purchase. All of our accessories are available both on our website and in stores.
Reviews
70% of reviewers recommend this product.
Go to a real Verizon store
Yes, I'd recommend this product.
Great, fast charging cord. I had to go to an actual Verizon store to get this cord. The "Verizon" store I original went to said we are a sub store of Verizon so the original cord that I purchased broke, I went to get another from the Claremont store only to find they don't have this cord but the same cord that broke the first time. Even though the outside said Verizon that sun store does not carry the same accessories as a real Verizon store . Disappointed because that's all that was there to purchase when I bought my boy a watch and phone.
Not happy!
I thought I was getting a cable for android. This only works on Iphone. I paid for it with Verizon dollars so I'm SOL!