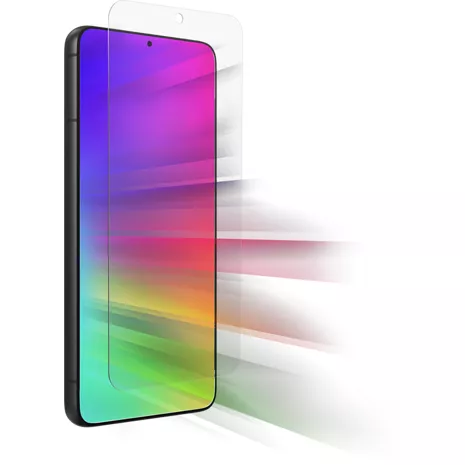 Overview tab selected 1 of 4
Overview Section Start
Protect your screen from cracks and scratches with the InvisibleShield Fusion XTR Screen Protector for Galaxy S22+. Made from a flexible hybrid polymer, this screen protector is strengthened with D3O for a formidable shield. It's compatible with most advanced biometric scanners. The nano-coated later reduces friction for increased touch sensitivity. And, it contains antimicrobial properties to reduce dirt and germs.¹

Blue light filtration.
Shield your eyes from blue light. The Eyesafe layer filters up to 40% of blue light to help reduce eye strain and fatigue.

Easy application.
The included Applicator Tool makes it easy to install your screen protector without any bubbles or bumps.



¹ Contains antimicrobial treatment that protects the screen protector by inhibiting the growth of odor-causing bacteria and guarding against degradation from microorganisms.



Reviews
62% of reviewers recommend this product.
Invisible shield....not worth the extremely high price
Invusible shield . 20 days ago
Horrible product. Applied it as directed. Left it on my tabke for approximately an hour and pick my phone up, slid it in my back pocket and the shield came off.
It's ok, but too short for older models.
First issue is that it doesn't fit my phone, but no one carries the S21+ protector in stock. It's about 1/4" too short. It does clean easier than my old one. It also cost too much. Hopefully it will work as well as the old one did.