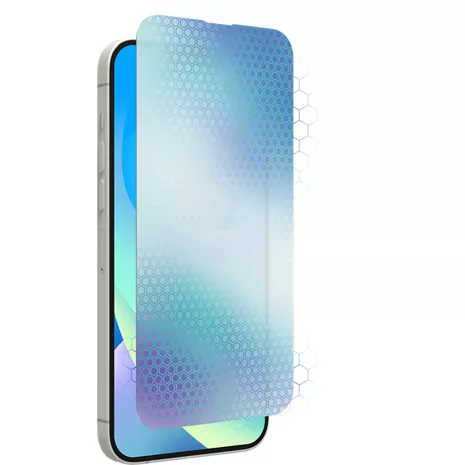 Overview tab selected 1 of 4
Overview Section Start
Protect your screen from cracks and scratches with the InvisibleShield Glass XTR2 Screen Protector for iPhone 14 and iPhone 13/13 Pro. Made with shock-absorbing Hexiom impact technology, this screen protector provides edge-to-edge protection for your phone. The enhanced EyeSafe layer filters up to 40% of intense blue light. The smooth, hydrophilic surface layer reduces friction when you slide your finger across the screen. And, the built-in antimicrobial treatment prevents the growth of odor-causing bacteria.¹

Easy application.
The included Applicator Tool makes it easy to install your screen protector without any bubbles or bumps. And, the new adhesive installs smoothly over dust, making it practically invisible.



¹ Contains anti-microbial treatment that protects the screen protector by inhibiting the growth of odor-causing bacteria and guarding against degradation from microorganisms.



Reviews
79% of reviewers recommend this product.
It worked!
Yes, I'd recommend this product.
This cover is very strong. I dropped my phone in a pile of rocks and the screen looked broken. Fortunately it was only the protective screen that was messed up! It did what it was supposed to do.
Easy to apply
Yes, I'd recommend this product.
Looks great, went on easy