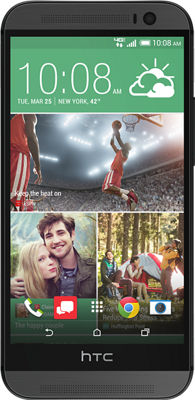 This device is no longer available for purchase.
The all new HTC One (M8) one-ups its predecessor, from its premium design and 5-inch Full HD display to its Duo Camera with UltraPixel, which lets you add 3D-style depth and change focus after snapping a photo. The HTC One (M8) comes in 32GB. Available in Amber Gold, Glacial Silver, or Metal Gray. (Subject to availability)
Reviews
4.5/5
2070 Reviews
90%
of reviewers recommend this product.
best smartphone I've owned
GuyWhoHasAPhone - 6 years ago
Yes, I'd recommend this product.
Large clear display, loud speakers, attractive appearance, great personalization options, easiest to use touchscreen keyboard I've come across( no doubt helped by the aforementioned large screen.) Some may find the phone a little too big,especially if you wear tight fitting pants. Fortunately I'm not into the skinny Jean craze. I've only had the phone about a week, so this could simply be a honeymoon period, but it's been great. Make sure you get a protective case when you make your purchase. This is definitely a device that'll you want to take care of. Dropped it once already on a wood floor. It was in a protective case fortunately, but hearing your brand new smartphone hit the floor like that is never fun. Anyways...this device is highly recommended.
M8 is an excellent smartphone.
rsund - 6 years ago
Yes, I'd recommend this product.
I was planning to get the M9 but my previous phone "died" on 3/2/2015 which was the day after the M9 was announced. The M8 is fine for me. I have not used the camera yet and have been reminded of its short comings by the reviewers. The battery life is better than I expected coming from a "max" battery phone. I like the microSD expansion capability. The twin speakers on the front of the phone were a real tie-breaker!
GREAT PHONE
HTC ONE M8 is most deserving of every accolade it has ever received.
Im inlove with this phone. omg
TerrTerrTerr - 6 years ago
Yes, I'd recommend this product.
After upgrading to the HTC One from the Droid DNA, I can safely say that I made the right decision.from the feel of the phone to the features and the battery, this phone has not let me down. The only downside is the camera.. quality is okay, but it could have been better. Definitely not a deal breaker though.
The HTC One is great.
SCGirl29102 - 6 years ago
Yes, I'd recommend this product.
I was not expecting to purchase the HTC One. I was actually looking to keep to the LG family like my prior phone but after reading the online reviews on the Verizon website and after seeing a demo in the Verizon store I was sold. I have had the phone for 5 days and I have not found anything I do not like. The battery life is wonderful. The ease of using the phone and switching between the different picture styles is great.
HTC is winning
CharmingTre - 6 years ago
Yes, I'd recommend this product.
I love everything about the HTC one m8. The fit in my hand, to the breathing rights in functionality. I use my phone for everything! Literally, EVERYTHING. Keep up the good work HTC!