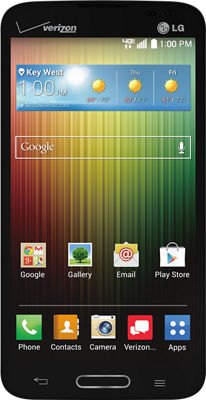 This device is no longer available for purchase.
The Lucid™3 by LG and its 4.7-inch qHD display make your movies, photos and games look great. It's stylish and light, with a 1.2 GHz quad-core processor that runs your favorite apps with ease. Simplify life with Easy Home, which puts your top apps and most-used features on a simplified Home screen.
Reviews
start rating review 3.6 out of 5 stars
3.6/5
490 Reviews
66%
of reviewers recommend this product.
great little phone
0therShawn - 5 years ago
Yes, I'd recommend this product.
We have had one of these for almost a year now and it still runs great, is fairly durable. Battery life isn't too bad (if you are on it so much that the battery drains constantly, then you should probably put the phone down and do something physically productive) It worked so well, that we bought another and will probably get a third as we have three kids. As long as they continue to hold up longer than the usual inexpensive phones we have had, we will continue to recommend the Lucid 3.
This is a Great Low Cost Phone . . . Feature Rich
KenLizotte - 5 years ago
Yes, I'd recommend this product.
I recently lost my LG Lucid 1. Got this Lucid 3 as a free upgrade about a month ago. This phone has so many new features and user interface improvements that I am really impressed. Don't have enough room to list them all out. Yes, I could have bought an iPhone, or Samsung Galaxy . . . but why? I am over 65 years old, and had no trouble "discovering" the new features and improved user-interface. I have not experienced any lock-up issues as others have posted. Battery life could always be better, but I can make it about 1.5 days. LG, You did a great job on this Lucid 3.
Easy to use
Lou859 - 5 years ago
Yes, I'd recommend this product.
I love the overall performance of this phone. It's easy to use and the battery life is excellent.
This phone is perfect for me
Crivitz - 5 years ago
Yes, I'd recommend this product.
The phone is a basic smart phone easy to use and was an amazing deal $ for us-plus the accessories and even a lower monthly bill :) The Salesman Chris at the Grafton store did so much to not only make it NOT a "painful" experience but actually fun for a couple of older non-techies
My comments are ALL Positive about this Phone
Veeten - 5 years ago
Yes, I'd recommend this product.
From the moment it was delivered... this phone has been a pure Joy to set-up and operate. Just followed easy-to-understand screen instructions... and all was good. A teeny bit less than the rated batt life... but it is still new & I expect that to improve. the APPS are awesome, as well as tone quality.
Easy to use and tough!
summer123 - 5 years ago
Yes, I'd recommend this product.
So far I've been able to figure out all the features I've needed for my phone (e.g., swiping for texting, Googlemaps for travel, etc.). So far the phone is proving to be tough as well. It's already had a toilet drop (ewww, sorry) and came out unscathed. At a recent conference I dropped the phone on a cement floor. I haven't purchased a case yet, and the back flew off and the battery came out. After I put it back together, the phone worked fine. Not overly impressed with the camera, but it's probably because I'm not used to using one and still have features to figure out. I'd recommend this phone to anyone.