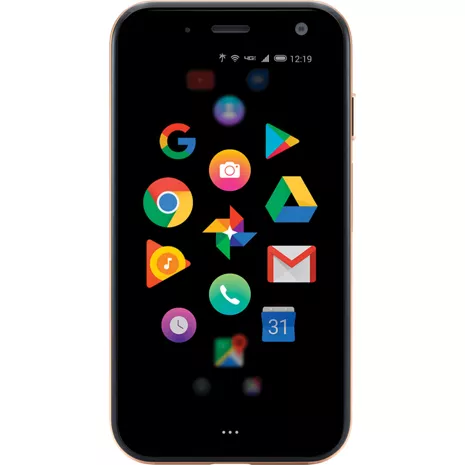 A Verizon exclusive, Palm lets you rethink the way you connect with your world. With its 3.3-inch screen, this ultra-mobile phone is perfect for minimalists who don't way to lug around a large and burdensome device. Palm gives you all your smartphone essentials, including a 12MP rear-facing and 8MP front-facing camera, Android OS, the full Google Play app ecosystem and WiFi compatibility. Unleash its full potential with Verizon, the nation's largest and most reliable 4G LTE network.
Reviews
58% of reviewers recommend this product.
LOVE LOVE LOVE it! sssss
Yes, I'd recommend this product.
I LOVE my Palm phone! Everyone comments on it. They can't believe it's a smart phone...does everything their their larger phone does. I have pretty much disabled most features because I just need a phone! I don't need to do anything else with it. But if I do need to go online, I just turn that on and I'm set, then I turn it back off when I'm done. I'm sure the battery would run down pretty quickly if everything was enabled...I've had it for several years now and I'm hoping it lasts for many years to come!
i loved it, but i can see why not everyone agrees sssss
it worked for me and what i needed it to do. The biggest issue was the battery. i could not keep a charge. even when i deleted any excessive apps it still just could not last an appropriate amount of time charged. I agree with the reviewer below, that the customer was the biggest advertisement. EVERY time i pulled it out, at the grocery store, in line anywhere it drew a crowd. it is not a replacement phone, as a companion phone, it servies its purposed. i could walk my dog and put that phone in my pocket easily and not have to take my iphone everywhere. dont expect to check social media or emails or anything substantial on it though . i lost mine, and i really miss it, but i dont think im ready to pay another ~$300 for a replacement
*IP68-rated to withstand dust, dirt and sand, and resistant to submersion up to a maximum depth of up to 5 feet of water for up to 30 minutes.