Meet the Samsung Galaxy S22 Ultra, setting an epic standard of the smartphone experience. Featuring Samsung's fastest-ever chipset, a long lasting battery
1
, and sophisticated AI, the Galaxy S22 Ultra pushes the boundaries of cutting-edge mobile technology. Is filmography your jam? Explore the Nightography mode while shooting videos
2
or photos of your latest adventures. Enjoy a powerful experience with creation and performance wherever you go, and use the sophisticated S Pen with its incredible power now sleekly embedded in the Galaxy S22 Ultra's design. Push the boundaries and do more with the Samsung Galaxy S22 Ultra. Plus, get more out of the activities you love when you connect with
Galaxy Buds
and
Galaxy Watch4
!
Reviews
2971 reviews
of reviewers recommend this product.
I *WAS* a die-hard Samsung Fan....
I've used the Samsung Galaxy series for years now. The latest S22 Ultra (and it's base S22 phone I have for my son) is absolutely lack-luster and bug-ridden. Often my incoming texts won't show up until I reboot the device. Call quality is really, really static-y from the receiver's point of view and my audio drops frequently. Blah. I hate that I have 29 months still to pay this off before I can get another phone all together.
Hi Jen... We appreciate you taking the time to review the Samsung Galaxy S22 Ultra. We value all feedback as we strive to innovate and improve on the design and functionality of our products. At your convenience, please read the articles, "Samsung consumer cellular not receiving text messages", and "Samsung phone freezes and crashes". Also, it sounds as if your device is still under warranty, please reach out to Samsung's Warranty department for assistance. Thank you for being a value customer. -Bethany
Always been a Samsung fan.
Yes, I'd recommend this product.
Well I have been a Samsung user for over 15 years now and I have never had a problem with any of the phones that I have purchased. My whole family has been a Samsung users as well. I have just recently purchased me a Samsung Galaxy S 22 Ultra, before that I had a Samsung Note 8 which is still in great shape and still works great, battery great, everything was great but just not enough memory. This phone holds more than double than the Note 8 did, so I did a trade-in and they couldn't believe how great of shape that the Note 8 was in. So I know that if I take care of this phone and watch what I download to the phone I know that it will be a GREAT phone.
Similar devices
Currently viewing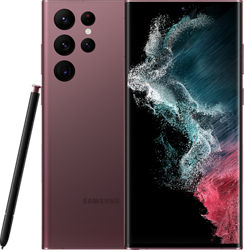 Samsung Galaxy S22 Ultra
Starts at
$33.33/mo
for 36 months, 0% APR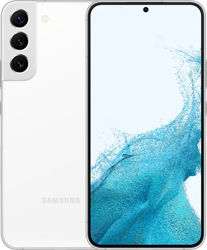 Samsung Galaxy S22+
Starts at
$27.77/mo
for 36 months, 0% APR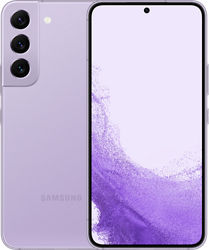 Samsung Galaxy S22
Starts at
$22.22/mo
for 36 months, 0% APR
Supports full HD video up to 60 fps.
Based on average battery life under typical usage conditions. Average expected performance based on typical use. Actual battery life depends on factors such as network, features selected, frequency of calls, and voice data, and other application usage patterns. Results may vary.
Wall chargers sold separately; use-only Samsung-approved chargers and cables. To avoid injury or damage to your device, do not use incompatible, worn or damaged batteries, chargers or cables. Supports 45W charging.
Galaxy Buds and Galaxy Watch sold separately.
5G Ultra Wideband available in select areas. 5G Nationwide available in 2700+ cities.
Requires all participants have devices with Android 12 OS.