Keep Life Entertaining by Connecting Mobile Devices to Your TV
Smartphone screens today are getting bigger and better, making watching videos and playing games more enjoyable than ever. Tablet screens aren't lacking, either. But nothing can top watching a movie on your 60-inch HDTV.
Fortunately, there are easy ways to connect your smartphone or tablet to your TV, so you can stream movies or share photos during your gatherings on the biggest screen you own—all without physically transferring any files.
Here are some options for connecting your devices as well as a few accessories and apps that are sure to improve your viewing experiences. 
Connect via media streaming device and app.
Smart accessories let you stream all your favorite apps to your TV. Verizon Stream TV lets you discover content across platforms including Video and on-demand programming. And with built-in Chromecast Verizon Stream TV lets you stream select music, videos and pictures from your phone to your TV. 
With Google Chromecast Ultra, you can stream content from HBO GO®, Netflix, YouTube™, Hulu Plus, Pandora, Google Play™, Chrome™ and more. It plugs into your TV's HDMI port and connects to your Wi-Fi network. You control all the action from your compatible smartphone, tablet or PC.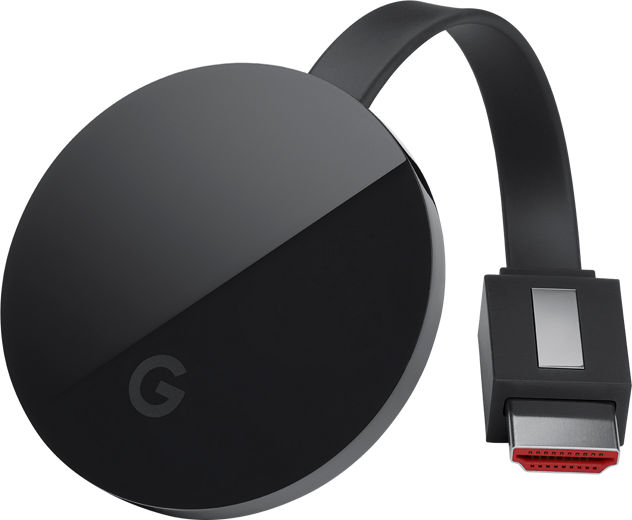 Connect your smartphone via HDMI.
Many smartphones and tablets can use an HDMI cable, such as the Belkin HDMI 6ft Cable
or the Apple Lightning Digital AV (HDMI) Adapter  to hook up to an HDMI-ready TV. Simply plug one end of the cable into your device and the other end into your TV. Once connected, what appears on your phone will also appear on the TV, so you can look at pictures and video, surf the web, use apps or play games. Be sure to select the HDMI cable that's compatible with your device.
Turn your smartphone into a TV.
So now you know how to get media from your smartphone or tablet onto your TV screen, but what if you want to watch broadcast television on your mobile device? Enter Slingbox® 500, which does just that. Using your home wireless network and connecting your Slingbox to your set-top box or DVR, you can watch TV on your mobile devices just as if you were at home. 
Connect to your TV via app.
Several popular streaming-video subscription services have complementary apps that work between your mobile devices and your television—no cable required. Some allow you to watch a video on your smartphone, stop it and then resume watching where you left off on your compatible Internet TV, or vice versa.
Watch how you want.
No matter how you want to watch or play, there's an option to meet your needs. Swap from your phone to your TV or use your device as an on-the-go entertainment venue.
This content is provided for information purposes only. All information included herein is subject to change without notice. Verizon is not responsible for any direct or indirect damages, arising from or related to use or reliance of the above content.