How to stream music from your smartphone or tablet
With the right gear, you can play the music stored on your smartphone or tablet through the external speakers or headphones of your choice using Bluetooth® accessories.
When your devices are charged up, powered on and ready to go, simply go into your Bluetooth settings on your phone or tablet to "discover" the nearby speaker or headphones you wish to stream to–select it and you're set!
Streaming gives you total control of your tunes as you roam (usually within 30 feet, sometimes even farther with certain products) and experience the best possible sound without dealing with the constraints of wires.
But it's not just your music that gets a tune-up. You can also watch a video on your device with an amped-up soundtrack, or even give the sound from your video games a boost.
Listen through your portable speaker.
Use it in the office or take it when you travel. The Bang and Olufsen Beosound A1 2nd Gen Portable Bluetooth Speaker with Voice Assist is a portable speaker that connects to your mobile devices with Bluetooth. The Multipoint feature lets you connect 2 devices. Enjoy crystal clear voice calls thanks to superior speakerphone performance. Three internal microphones give you the very best connections for those online meetings and hands-free calls.
It's waterproof and completely resistant to dust and sand1 so whether you head to the beach or create your own spa-like experience right in your own bathroom, you can bring this bluetooth speaker along with you.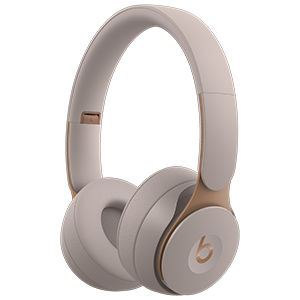 Listen from your headphones.
Streaming music to your headphones to power your next walk or jog can be accomplished with ease, especially if you have headphones like the JBL LIVE Wireless In-Ear Headphones.
These fully wireless earbuds feature Ambient Aware that lets you immerse yourself in your favorite playlist while still being aware of your surroundings. The TalkThru feature lets you chat with people around you without even removing your headphones. Control volume, skip songs and take hands-free calls with the touch controls for easy convenience. And these Bluetooth headphones are sweat and water-resistant, so you can even use them when working out or in bad weather.1
If it's more about the music and less about the activity, the Beats Solo Pro wireless headphones might be the choice for you. Streaming music through this headphone, you'll experience a wide spectrum of sound and enhanced clarity that you never thought possible when going wireless. With extended range and fewer dropouts,the Solo Pro is streamlined, lightweight and durable. Plus it has that style and an attractive design that the Beats brand is known for.
Try an app.
If it's the party scene that you're most interested in, then the Ultimate Ears WONDERBOOM 2 speakers are where you should focus your attention. Stream music when it's time to get people up and moving at your next gathering and you'll be the talk of the night. Even better, UE speakers can be used in conjunction with a free app that helps give you even more control over your streaming music experience.
As the team at UE puts it: You don't walk all the way to your television to turn it on, so you shouldn't have to with your wireless speaker either. With the UE BOOM app, available on the App Store and on Google Play (Android), you can control the party from wherever you're sitting and have access to an expanding set of fun and unique features like the musical alarm and fully customizable 5-band equalizer.
Wirelessly pair up your UE Booms with the app to play them in stereo or double the sound and play the same music from both speakers.
Another portable Bluetooth speaker that's capable of pumping up a party is the JBL Pulse 4. The sound it emits is booming enough to bring any gathering to life thanks to the high-performance drivers and built-in bass port. But what really sets this one apart from the rest is the lighting themes that pulse to the music, instantly turning your living room into a dance club.
To get the most out of this speaker, use the free JBL Music App which lets you tweak and tune sound performance to best accommodate your taste and preferences including audio equalization. Use it to switch audio sources or EQ modes; even change the themes of your lighting modes remotely with the app.
Stream audio your way.
With many different audio accessories available, you can stream all your music, podcasts, shows and even participate in work meetings from just about any device. Whether on-the-go or working from your home office, you'll never be without your most important tools. 
1. IP67 waterproof rating. Can be immersed in water up to 1m for up to 30 minutes.
This content is provided for information purposes only. All information included herein is subject to change without notice. Verizon is not responsible for any direct or indirect damages, arising from or related to use or reliance of the above content.