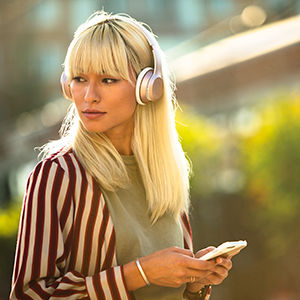 5. Portable Wi-Fi hotspots.
By renting or buying a mobile hotspot, you can bring your own connectivity with you around the world. These devices work by tapping into cellular data connectivity and then sharing that connection with nearby laptops, tablets and other Wi-Fi-compatible devices. Users typically pay a daily or monthly fee to access the connectivity. Or, with the Verizon Jetpack hotspot device, your traveling party can connect phones, computers, cameras and gaming devices using your cellular data. Mobile hotspots are a good fit if you'll be using your laptop and other larger devices extensively during your trip.
6. Local SIM cards.
If your phone isn't locked to a specific carrier — and if it has a slot for a SIM (Subscriber Identity Module) card — you can buy a prepaid SIM card that will allow you to call, text and access data in-country. The new card will temporarily change your phone number, meaning that people won't be able to get in touch with you unless you give them your updated information.
7. Chatting apps.
A number of different mobile apps allow you to call, send text messages or video chat with people back home, all without using your cellular plan. Of course, these apps require you to have some sort of connection, so you'll need to find a place with Wi-Fi to use them. It shouldn't be all that difficult to find a strong Wi-Fi connection in your hotel or at a coffee shop, but they won't help you upload a photo to social media while walking along the Seine or find directions to a market in Marrakesh. 
Consider a Verizon international data plan.
Even though you'll be exploring abroad, you'll still want to stay connected with friends, family and colleagues back home — and also have the ability to quickly access information, directions and more. Verizon international plans present a convenient, comprehensive and great value option for many travelers. Explore Verizon international plans with our International Trip Planner.