Experience Next-Level Connectivity with the Samsung Galaxy S10 5G
Part 3 of a 3-part series. Click here for part 1 and click here for part 2.
The next generation of mobile connectivity has arrived. The bad news is that you'll need a 5G capable phone to get the benefits of the 5G network1 everyone's buzzing about. The good news? Brand-new phones like the Galaxy S10 5G have you covered.
Verizon's 5G Ultra Wideband is ready to take on the future with the largest bandwidth available for the fastest speeds and most capacity—even when there's an increased need for data.1 But what exactly does a 5G network and a tech-forward 5G phone really mean to you? It means console-quality gaming and minimal-lag video chats. It means (according to CNET's tests) downloading season 2 of "The Marvelous Mrs. Maisel," (approximately 10 hours of 4K video) in under 5 minutes. To check out more real-world 5G tests, watch CNET's "Galaxy S10 5G's Verizon speeds blew us away" video here.   
Harness the power of Verizon's 5G network with the S10 5G.
The Samsung Galaxy S10 5G is a true standout in the Galaxy family. As if the ultra-fast speeds of 5G are not enough, Samsung has equipped this bad-boy smartphone with added features that truly set it apart from other Samsung Galaxy phones.
Here's a closer look at the Galaxy S10 5G:
Screen Size: 
The largest in the S10 family (even outsizing the 
S10+
), this 5G phone features a  screen measuring in at an impressive 6.7 inches diagonally.2 Though the size of this phone nearly puts it in the phablet category (O.K.—it is a phablet) it remains comfortable to hold thanks to an innovative curved display. There may be no slipping this phone into your back pocket, but at nearly 7-inches, it lets you safely leave your 
tablet
 at home.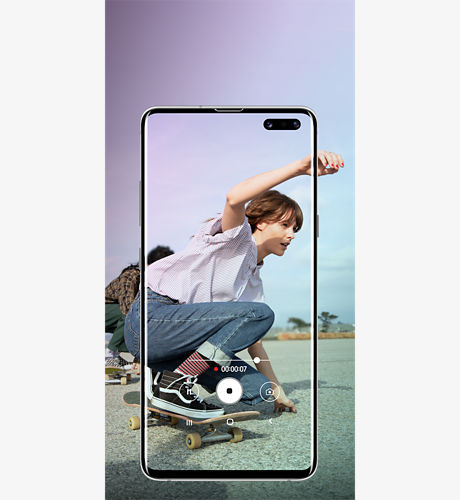 Display: Not all that much is different from the S10 5G's siblings. The 5G phone is also equipped with a Cinematic Infinity display. The camera on the front panel is nearly undetectable thanks to the Cinematic Infinity display punch out and clever wallpaper design. As with all other models, this is one of the brightest, crispest, most vibrant displays available. And the added large screen makes it that much more enjoyable to view pics, catch a flick or play a game.

Build: The premium build that can be found on the S10+ is also on the S10 5G. With a lightweight aluminum frame, Gorilla Glass 5 on the back and Gorilla Glass 6 on the front, Samsung figured why change what works? They even kept the 3.5 mm headphone jack, so you won't have to worry just yet about upgrading to the Samsung Buds. 
Camera: As if this phone couldn't get any better, Samsung gives 5G lovers an additional camera for a total of 6 cameras!3 That's an impressive 4 cameras on the back and 2 on the front. While there are many similarities between the S10+ cameras and the S10 5Gs, there are a few differences of note.
In addition to the 12 MP wide-angle/telephoto cameras and 16 MP ultra-wide-angle camera, you also get a 3D depth camera.  In short, according to Samsung, this additional camera "can judge depth and distance to take your photography to new levels." In case you weren't counting, that's 4 cameras just on the back of the S10 5G phone.
The front of the S10 5G comes equipped with 2 cameras - A 10 MP selfie camera with auto/live focus and a 3D depth camera. So you can take those uber-creative shots, whether you are taking a selfie or portrait of your favorite pet.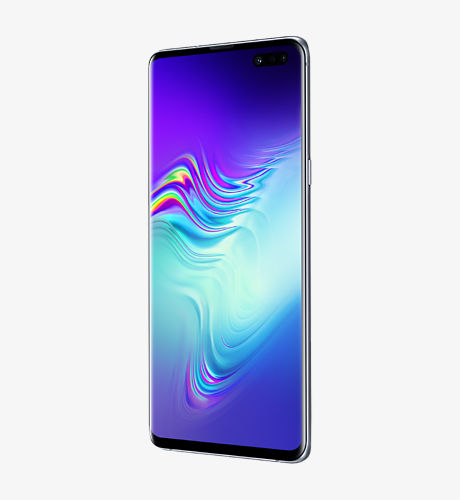 Memory and Storage: This phone comes with two options: 8 GB RAM with 256 GB of internal storage and8 GB RAM with 512 GB of storage. Whichever option you choose, be sure you choose wisely. The S10 5G (unlike the other S10 models) does not come with expandable storage capabilities.  
Battery life: As with the camera and screen size, the battery life on the S10 5G tops the charts at 4,500 mAh. In layman's terms, that's 44 hours of talk time (yup, nearly 2 days) and 15.5 days of standby.4
The Samsung Galaxy S10 5G is the next generation in smartphone technology, built to harness the power of Verizon's 5G Ultra Wideband network.1 If you're looking to board the 5G hype train, be sure you keep an eye on Verizon's 5G expansion across the nation. To see where this lightning-fast network already exists and where it will be next, check out Verizon's list of 5G enabled cities.
1 5G Ultra Wideband available only in parts of select cities.
2 Measured diagonally, Galaxy S10 5G's screen size is 6.7" in the full rectangle. Actual viewable area is 6.5" due to rounded corners and camera hole.
3 Dual 12MP OIS AF(Wide) F1.5/F2.4 + (Tele) 12 MP F2.4 + (Super Wide)16MP FF F2.2 + (Depth)F1.2 Front:10MP 2PD F1.9 + (Depth)F1.2.
4 Based on average battery life under typical usage conditions. Average expected performance based on typical use. Actual battery life depends on factors such as network, features selected, frequency of calls, and voice, data, and other application - usage patterns. Results may vary.
This content is provided for information purposes only. All information included herein is subject to change without notice. Verizon is not responsible for any direct or indirect damages, arising from or related to use or reliance of the above content.