Comparing the Samsung Galaxy S10, S10e, S10+ & S10 5G
A quick and helpful guide to the features Samsung's latest generation of Galaxy smartphones have in common.
Part 1 of a 3-part series. Click here for part 2 and click here for part 3.
The S10 line has something for everyone, from the compact Samsung Galaxy S10e to the premium Samsung Galaxy S10 5G. And while there are some differences between the S10 phones in this year's Galaxy lineup, there's also quite a bit they have in common. Here's a closer look at the main features all 4 of the S10 phones come with. 

The Qualcomm Snapdragon 855 Processor.
Android's fastest processor yet.
This chipset offers faster processing speeds, greater memory capabilities and better battery efficiency than its predecessor, the Snapdragon 845. Tom's Guide tested the 855 against several leading processors, including the iPhone XS's A12 Bionic, and found that this processor is pretty darned close in overall performance. To see just how well the Qualcomm Snapdragon 855 processor stacked up against Apple's iPhone XS, check out this article from Tom's Guide.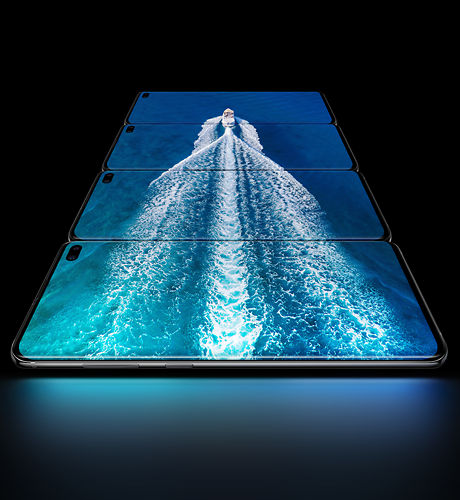 Cinematic Display.
Reduces blue light and adjusts for day or night.
The Quad HD+ Dynamic AMOLED Infinity-O Display is just as impressive as it sounds. With deep blacks, vibrant colors, blue-light-blocking technology and more, all 4 S10s come with cinematic-grade displays, laser-cut beveled edges and a front-facing camera punch-out. AMOLED Infinity-O tech lets you rest assured that viewing a text or pictures from the sidelines of the ballfield in July won't be an issue. 

Ultra-fast Wi-Fi 6.
The latest generation of Wi-Fi. 
Samsung's Galaxy S10 phones are some of the first to feature full Wi-Fi 6 compatibility. While Wi-Fi 6 has the fastest data rates yet, clocking in at 9.6 GPS, it's the ability to a handle crowded network that users are most likely to notice. With any of the Wi-Fi 6-capable Galaxy S10 phones, you will notice a marked increase in speeds even at the busiest time of day. To get the full low-down on Wi-Fi 6 and all of its advantages, check out CNET's "Wi-Fi 6 explained" piece.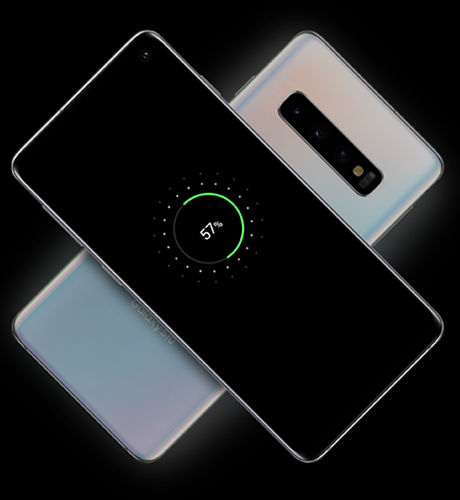 Wireless PowerShare.
Power on the go.
Want to use your Samsung Galaxy Buds but forgot your charger? Or maybe one of your friends needs an extra powerup? Not a problem with Samsung's innovative Wireless PowerShare. Simply lay your wireless charging device on the back of any S10 phone for a quick charge. All 4 S10 phones come with this tech-forward feature that definitely adds to the convenience (and cool factor) of your new Samsung device. ²

IP68 Water Resistance.
Raindrops, sea spray and splashes? No problem.
IP68 sure sounds good, but what does it really mean? Devices with an IP68 rating can be submerged in water up to 1.5 meters. Lounging at the pool and accidentally dropping your phone in the shallow end is not ideal, but with this water-resistant rating, the full Samsung Galaxy S10 line will resist water damage are built to endure. IP68 resistance protects your phone from dust, dirt and sand, so taking it on your next adventure, chilling on the beach or kicking it at this year's hottest summer festivals won't be an issue.³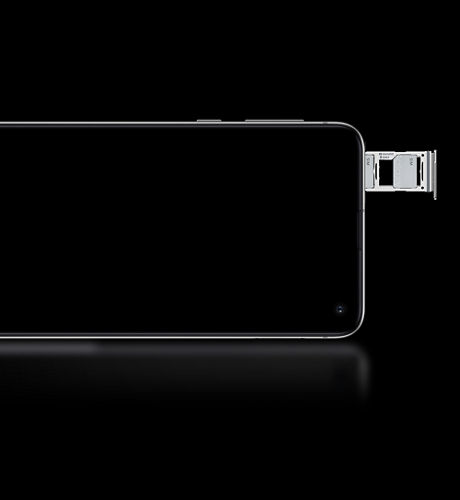 Even more storage.
Space for all your favorite apps, games and pics.
Want to keep every photo you've ever taken? Or maybe you just can't part with that workout app you downloaded 6 months ago but haven't ever used? Whatever it is that you'd like to keep on your phone (and not in the cloud), it won't be an issue with the expandable storage option available on the S10e, S10 and S10+. You can easily add a micro SD card for up to 512 GB of additional storage. However, the S10 5G does not come with expandable storage capabilities.⁴
Gorilla Glass strong.

Lightweight and durable protection.
An aluminum frame and glass panels make up the body of all S10 phones. However, the S10e comes with Gorilla Glass 5 panels on the front and back and the S10, S10+ and S10 5G come with Gorilla Glass 5 on the back and Gorilla Glass 6 on the front. According to Corning's website, Gorilla Glass 6 is "... the toughest cover glass available for consumer mobile devices…" The S10s are engineered to be lightweight, tough and good-looking.
Not ready for wireless earbuds?
Headphone jacks are still a thing.
Samsung hasn't done away with the 3.5 mm headphone jack. All 4 S10s still come with a headphone jack for those that prefer plugging in.
Need more info before picking your next S10?
Still not sure which of the Samsung Galaxy S10 phones is right for you? Check out our next article for a full comparison guide on how these smartphones stack up against one another. Or head over to Verizon Wireless' Samsung page to view new phones, compare specs and read the latest Samsung Galaxy S10 reviews. 
1 5G Ultra Wideband available only in parts of select cities.
2 Wireless PowerShare works with most Qi-Certified devices. Requires minimum 30% battery to share. Speed and power efficiency of charge varies by device. May not work with some accessories, covers, or other manufacturer's devices. If you have trouble connecting or charging is slow, remove any cover from each device. May affect call reception or data services, depending on your network environment.
3 IP68-rated to withstand dust, dirt and sand, and resistant to submersion up to a maximum depth of up to 5 feet of water for up to 30 minutes.
4 Memory card sold separately.
This content is provided for information purposes only. All information included herein is subject to change without notice. Verizon is not responsible for any direct or indirect damages, arising from or related to use or reliance of the above content.