What are the Differences Between Samsung Galaxy S10 Phones?
Take a quick peek at the features that make up the Samsung Galaxy S10, S10e and S10+.
Part 2 of a 3-part series. Click here for part 1 and click here for part 3.

With Samsung dropping so many sleek Galaxy phones into their flagship S10 lineup, it can be hard to know which one is right for you. This year Samsung gave us 4 fab phones to choose from, as opposed to previous years which typically only had base models and plus editions.
A closer look at the Samsung Galaxy S10e, Galaxy S10 and Galaxy S10+ will help you choose the one with all the techy features you've been dreaming of. But if it's Samsung's S10 5G that's been keeping you awake at night, then be sure to check out part 3 of our article series here.
Samsung Galaxy S10 phones all share some superior features (be sure to read our previous article to explore all the things yet have in common) that other smartphones simply have not caught up with. But they also have several differences that are important to understand before choosing your next Samsung upgrade. To get a better idea of which phone comes with what, let's take a closer look at screen size, display, build, memory, storage, battery life and, of course, Samsung's groundbreaking cameras.
The budget-friendly option.
Want a smartphone that has some of the S10 bells and whistles without the hefty price tag? Then the S10e is the one for you.
Screen Size: Starting with the smallest, the S10e measures 5.8 inches diagonally. Though it's the most compact of the 4 S10 phones, it's arguably the easiest to grip while one-handed texting and definitely lighter in the pocket.
Display: All 4 S10 phones come equipped with Quad HD+ Dynamic AMOLED Infinity-O Displays which offer some of the richest blacks and eye-popping colors available on a smartphone screen. The biggest difference between the S10e display and that of the S10 and S10+, however, is the lack of a curved edge. The S10e is the only one with a flat-faced glass display. And while its 438 pixels per inch don't quite live up to its big brothers' 500+ ppi, it's still noteworthy. Images remain crisp and detailed, whether you're on the soccer field in the full-summer sun or re-watching the dimly-lit final season of a certain popular fantasy show. 
Yes, this year's S10s did incorporate an ultrasonic fingerprint scanner into the front display, just not on the S10e (sigh). However, there is a capacitive fingerprint sensor built into the power button on the right side of the phone. While it is just as responsive as the in-display sensor, it can be a bit awkward for lefties to get good placement on.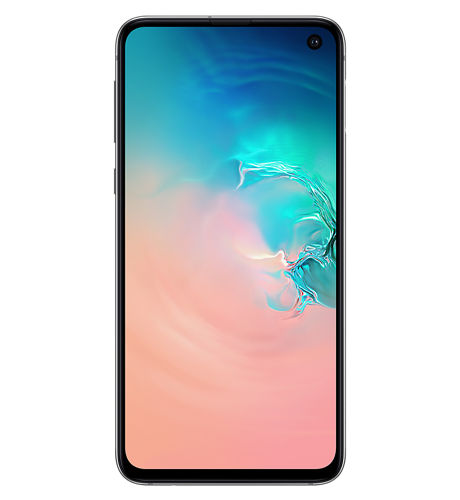 Build: Constructed with lightweight aluminum and Gorilla Glass 5 on the front and back panels, the Samsung S10e is designed to withstand minor drops, dings and scratches. And for those who haven't upgraded to wireless headphones, the S10e comes equipped with a 3.5 mm headphone jack.

Camera: For selfie lovers, each S10 phone features a 10 megapixel (MP) camera with live focus and dual pixel autofocus (AF). The biggest difference between the S10e and other S10 devices is the rear camera. The S10e has a dual rear camera. The back of the device sports a 12 MP camera with autofocus and a second 16 MP ultra-wide camera for capturing more in the frame. Other camera specs include an 8x digital zoom and a 0.5x optical zoom. While this phone may have 2 rear cameras as opposed to the 3 on the more advanced (and pricier) S10 models, you still get intelligent camera features like scene optimization, shot suggestion and flaw detection, as well as all the special camera modes like panorama and pro.
Memory and Storage: The S10e comes in 2 models: one with 6 GB of RAM and 128 GB storage and one with 8 GB of RAM and 256 GB of storage. And if that wasn't enough, storage is expandable by up to 512 GB using an external micro SD card.1
Battery life: 3100 mAh is nothing to sneeze at, particularly since this is one smart battery. The Samsung intelligent battery learns your device usage and adapts to conserve energy so you can enjoy peak performance throughout the day. But what does 3100 mAh mean to you? It means up to 11 days of standby time and up to 33.93 hours of talk time.2 Combine that with a smart battery, and you'll have worry-free usage.
The flagship lover's choice.
There's nothing standard about the Samsung Galaxy S10. It's the flagship in the Samsung S10 series for a reason and chock-full-of features that set it apart from others in the series. If you want a phone that is power-packed but not too big to handle, then this may be the one you've been looking for.
Screen Size: The S10 is not too big and not too small, it's just right, Goldilocks. With a standard size of 6.1 inches and a curved display, it provides maximum screen-to-phone ratio at just the right size.
Display: A Quad HD+ Dynamic AMOLED Display provides incredibly vibrant colors and detailed picture quality in most light conditions. Unlike the S10e, the S10 has a curved display that's borderless. And the Infinity-O camera punch out, combined with innovative wallpaper, work to seamlessly blend in with the front-facing camera.
The S10 model is the first in the lineup to get an in-display ultrasonic fingerprint reader. Not only is this optical scanning technology cutting edge, but it's also a pretty cool bragging feature.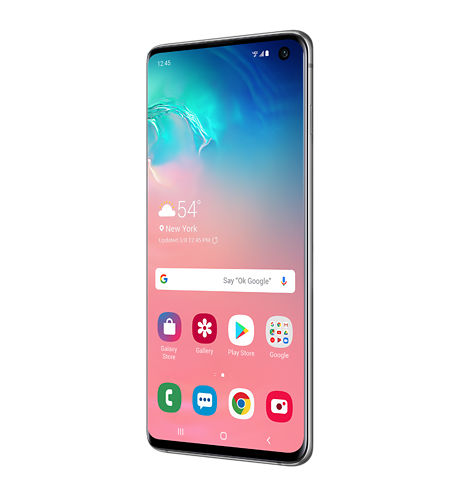 Build: The body of the S10 is constructed from durable aluminum with front and back glass panels. The rear panel is made of Corning's Gorilla Glass 5, while the front is made of Gorilla Glass 6. According to Corning, Gorilla Glass 6 is "the toughest cover glass available for consumer mobile devices…" And just like the S10e, this model comes with a 3.5 mm headphone jack, so no worries if you haven't ordered your Galaxy Buds yet.

Camera: A step up from the S10e, the S10 comes with a triple rear camera for even more photo fun. In addition to the primary 12 MP wide-angle camera with variable aperture and the 16 MP ultra-wide, it also sports a 12 MP telephoto camera to capture those long-distance shots. All the other fab photo functions are also included, like camera modes for food, pro shots and portraits, as well as intelligent features for scene optimization and shot suggestions. And, of course, there's a 10 MP camera in the front display. The front camera comes standard with autofocus and live focus for pro-quality selfies.
Memory and Storage: The base S10 model comes with 8 GB of memory and 128 GB of storage. But if you're someone who loves to take a lot of photos, you may want to consider the 8 GB / 512 GB model. Keep in mind that there is an expandable memory slot that allows you to add a micro SD card for up to 512 GB of additional storage.1
Battery life: A 3400mAh battery sounds great, but what does that really mean? It means that you likely won't lose power on your next road trip, or run out of juice in the middle of the workday. With up to 35.83 hours of usage time and up to 13 days of standby, the S10 provides you with all-day-long power.2
Sometimes, bigger is better.
The bar has been raised with the S10+. A pumped-up display, powerful battery life and pro-quality camera setup are just a few of the things that set this S10 apart from the others in the Galaxy lineup.

Screen Size: And in this corner, measuring a whopping 6.4 inches diagonally, is the S10+. Combine the nearly-edgeless curved display with one of the largest screens and you won't shy away from watching the next binge-worthy show on your phone.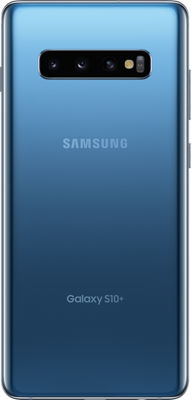 Display: The S10+ has the same impressive Quad HD+ Dynamic AMOLED Infinity-O display as all of the S10s, there's just more of it. The S10+ has 522 pixels per inch and a double camera punch-out in the front display. Few displays in the smartphone market rival the inky blacks, vibrant colors and competition-crushing brightness the S10+ has to offer. A curved, bezel-less screen lets you take advantage of nearly all of those 6.4 inches for viewing enjoyment. And of course, the S10+ has the brag-worthy in-screen fingerprint scanner as well.
Build: Lightweight aluminum frames combine with front and back Gorilla Glass panels for a durable build that stands up to everyday wear and tear. The back panel of the S10+ is made of Gorilla Glass 5 and the front glass panel gets a bit of an upgrade to Corning's toughest glass to date, Gorilla Glass 6. And a 3.5 mm headphone jack is still available on this plus-sized model. For those that want to go premium, the S10+ is available with a ceramic white or a ceramic black back panel.
Camera: Here's where the S10+ really starts to break away from the Galaxy pack. With 2—yes 2—front-facing cameras and 3 rear cameras, you are one step closer to becoming the Instagram influencer you always knew you could be. The 3 rear-facing cameras are laid out horizontally across the back and include an LED flash. Here's how the 3 cameras stack up:
●       A 12 MP wide-angle camera with variable aperture and dual pixel autofocus.
●       A telephoto camera with 12 MP and OIS autofocus.
●       An ultra-wide 16 MP camera that boasts a 123-degree field of view.
But we're not done yet. This monster phone also comes equipped with 2 front-facing cameras. The primary front-facing camera is the same as the other S10s, with a 10 MP selfie camera complete with auto and live focus for clearer shots. And the second front-facing camera is an 8 MP depth camera perfect for achieving artistic bokeh effects.
Memory and Storage: What's not to love about all the memory and storage that comes with the S10+? There are a few different models to choose from, so be sure to pick the one that meets all your picture-hoarding, game-loving, app-addicted needs. The base comes with 8 GB of RAM and 128 GB of internal storage. If that's not enough, you can go premium with one of the ceramic models and get 12 GB RAM and 512 GB of storage.1 And for those who only want the top of the line, the Performance Edition ceramic model (a.k.a. the braggadocious model) has 12 GB of RAM and 1 TB of storage!
Battery life: A bigger phone also means a longer-lasting battery. Topping the charts at 4100 mAh, the S10+ has up to 35.83 hours of talk time and up to 13 days of standby. The intelligent battery makes sure that you have the power you need when you need it by learning your habits and adjusting accordingly.2
All in all, there's a lot to unpack when it comes to the features, build, cameras and more in the Galaxy S10 line. While the S10s all host many of the same features, there are several differences that should be considered before deciding on your next smartphone upgrade. Whether you choose the pocket-friendly S10e, the standard-but-solid S10, or the bigger and better S10+, you really can't go wrong. And just like your S10, Verizon Wireless cell phone plans aren't a case of one size fits all. Check out the customizable cell phone plans page to learn more today.

1 Memory card sold separately.
2 Based on average battery life under typical usage conditions. Average expected performance based on typical use. Actual battery life depends on factors such as network, features selected, frequency of calls, and voice, data, and other application usage patterns. Results may vary.
This content is provided for information purposes only. All information included herein is subject to change without notice. Verizon is not responsible for any direct or indirect damages, arising from or related to use or reliance of the above content.