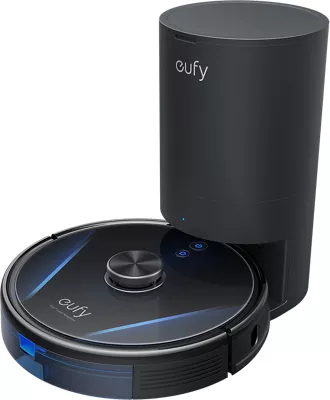 Keep your floors clean with the RoboVac LR30 Hybrid+. Multi-floor mapping creates cleaning maps for up to 3 levels in your home and automatically recognizes the floor it's on once it's set down. The 7-ounce electronic water tank is controlled through the app and allows you to switch flows based on whether you're cleaning carpet or hardwood. Use Amazon Alexa or Google Assistant to control your robovac hands-free. Program in no-go zones, so it doesn't get stuck in unwanted rooms. And, with the child safety lock, you can prevent kids or pets from accidentally starting the vacuum when you're not watching.
Ultra-strong suction.
With 4 cleaning modes, the robovac provides up to 3,00 Pa suction power to pick up dirt, crumbs, pet hair and more for superior cleaning performance.
Hands-free cleaning.
The auto-emptying system provides an antibacterial and deodorizing dust bag that can be used for up to 60 days before needing replacement.¹
iPath laser navigation.
Advanced LiDAR technology scans your home to build a real-time map, allowing it to navigate through your home or apartment throughout the day precisely. And, it uses a Z-shaped path for a more efficient cleaning cycle.
¹According to eufy laboratory data. Duration will vary depending on your home environment and number of pets.
Reviews
18 reviews
of reviewers recommend this product.
After a month of use I'm super happy
Yes, I'd recommend this product.
[This review was collected as part of a promotion.] This is by far the best automated vacuum mop I have ever used. I've used other brands and been disappointed with how hard they are to program but this one was a pleasant surprise! I would highly recommend it!
Awesome Robotic Vacuum
Yes, I'd recommend this product.
[This review was collected as part of a promotion.] This robotic vacuum is hands down the best robotic vacuum that I have ever owned. The primary reason for this is that it does an awesome job mapping your place because it uses lasers to map your home. It is so good with mapping that if you close a door the map will change to show the door as closed. Another good point about this vacuum is that methodically cleans your room by doing the exterior of the room first then it does laps throughout the room until it has cleaned every inch of the room. Also, the vacuum has good suction and does a decent job cleaning carpet. Now concerning the app, I think it's awesome. One feature that I really love about the app is that you can set no-go boundaries in the app to prevent the vacuum from going near certain areas. Unlike the older vacs that I am used to that used magnetic strips. Another good thing about the app is that you can set the vacuum to only clean a specific room or a small area within a room which is nice. Now comes the part about what I don't like about the vacuum. The biggest thing is that on my unit the right sweeper arm tends to come off when it hits cables which shouldn't happen. Another thing I don't like but can live with is that this vacuum requires filets and vacuum bags that you need to replace every so often and this is a big issue for me because the last thing I want to do with my money is to spend it replacing filters for a robotic vacuum. My suggestion is to provide washable bags and filters that people can clean instead of having to replace things. Overall I would say the vacuum is a good one and I would definitely recommend it to friends looking for a good robotic vacuum.