5 reasons you need custom ringtones
Custom ringtones come with a surprising list of benefits. From avoiding spam calls and maintaining a work-life balance to letting you express yourself in a new way, here are 5 ways ringtones can help streamline — and add personality to — your day-to-day life. 
1. Avoid or identify spam calls.
Unless you're luckier than most, you've likely noticed an uptick in spam calls in recent months. But there's good news — you can avoid those pesky calls with simple ringtone customization.
First, if you've got a persistent spam caller from the same or just a few numbers, you have the option to either save the number as a contact and give it a custom ringtone (so you know not to pick up) or you can block the numbers altogether. Sometimes, however, spam calls come from a new number every time, in which case you'll need another solution. Verizon Call Filter is a great option. This is a free app that lets you screen and block spam calls automatically based on risk level. There's also an upgraded version available, Verizon Call Filter Plus, that offers unknown caller identification and customized spam and robocall controls. Learn more about how to stop robocalls.
2. Keep loved ones first.
Set custom sounds for the important people in your life. Whether you're expecting an important call about a job or need to hear calls from a family member, individual ringtones can help ensure you pick up when it matters. To do this with both iPhone and Android phones, find the contact you'd like to personalize, select "Edit" and scroll until you see "Ringtone." Choose the one you'd like to represent that contact and you're all set. Repeat this process with any contact you want to have a special ringtone.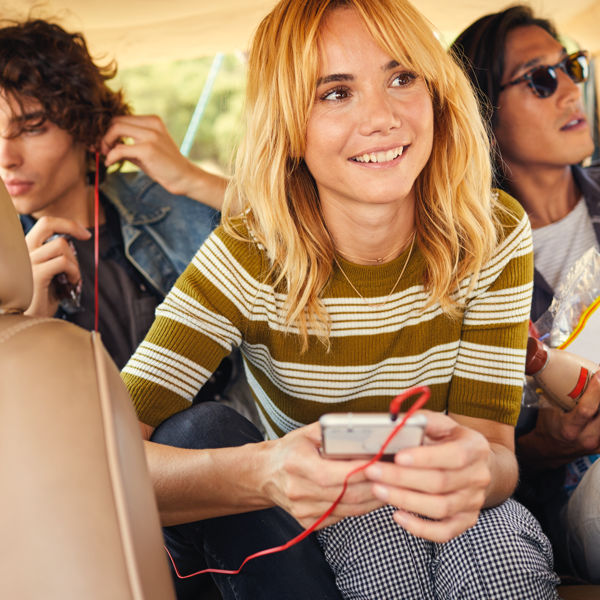 In cases where you'd only like to hear calls from select contacts — say, you're at a restaurant while a babysitter watches the kids — put your phone into "Do Not Disturb" mode and go to your settings to only allow calls from that person. (In this case, you'd select your babysitter's number.) 
On an iPhone: Select the person's contact info, tap "Edit," "Ringtone" and then toggle the "Emergency Bypass" button at the top of your screen. 

On an Android: Open your settings and select "Sound," then "Do Not Disturb" and finally "Priority Only." Toggle on "Messages and Contacts" and select the person's contact info.
3. Balance your work and personal life. 
As working from home and on-the-go has become more prevalent, it's become easier for your work life to bleed into your personal life — especially when it comes to your phone. Separate the 2 with designated ringtones so you know when to pick up and when to unplug.
If you have an Android, your phone likely has the option to set up a "Work Profile," which isolates the apps and data you use for work. Go to your settings and select "Accounts" to see if you have a "Work" section. If not, talk to your employer. They may be able to help you set one up. Once your work profile is set up, go to your settings again and select "Sounds." Scroll down to see "Work Profile Sounds" and set a custom ringtone for work calls and notifications.
If you have an iPhone, customizing ringtones may take a little more effort, but it will pay off quickly. When you have free time, make a list of your work contacts and select a ringtone that will designate a work call. Edit each contact in your list with the custom ringtone and you're done. Remember to do this each time you receive a new work contact to keep your ringtones working for you.
Looking for tips to set up the perfect home office? Check out our guide to a better work-from-home office.
4. Express yourself with free ringtones or make your own.
Just like a special phone case or unique home screen wallpaper, custom sounds can make your smartphone feel truly personal. If you've cycled through a few and grown tired of the default ringtones your phone has to offer, you're in luck. There are countless ways to get free ringtones of your favorite sounds or even make your own custom ringtone. 
First, we recommend you learn how to get and use ringtones. There are great device-specific recommendations for websites offering free downloads, ringtone apps that allow you to create your own sound and even a way to convert sounds you already have to MP3 so you can use them as a ringtone.
5. Show off your phone's audio.
Make sure your fun new ringtone can be heard. There are a handful of great phones out there with superb sound thanks to built-in stereo speakers and advanced audio processing. The Samsung Galaxy S20 and the Apple iPhone 11 Pro provide expansive and immersive sound with support for Dolby Atmos audio. The LG V60 ThinQ 5G UW and the affordable Google Pixel 4a supplement their stereo speakers with a 3.5 mm headphone jack, which gives you flexibility and more controlled sound.
Make everyday life easier with custom ringtones.
You may have never thought about creating custom ringtones, but once you make some, you won't regret it. Take 15 minutes and set up your ringtones so you can easily ignore unwanted calls, be more present throughout the day and enjoy your favorite tune when your favorite contact calls. 
This content is provided for information purposes only. All information included herein is subject to change without notice. Verizon is not responsible for any direct or indirect damages, arising from or related to use or reliance of the above content.