Your Guide to a Better Work-from-Home Office
Whether you're new to working remotely or you're a seasoned telecommuter, you need a workspace with the right tech and accessories that set you up for success. From tools that protect your tech to a boost for videoconferencing, here's what you need to help create a productive and comfortable at-home work environment.
Dedicate one area to work from home.

Unplugging may be one of the biggest struggles you face if you work from home, but a separate space can help with job-life balance. The only requirements for any workspace are that you should feel comfortable enough to spend your working hours there and it should be secure enough that you can leave everything in place at the end of the day. The end of a dining room table works, as does a small desk tucked in a living room. Outfit it with a comfortable chair; bonus points if you have a few extra inches to add a small desk lamp.
Protect and enhance your home laptop, desktop and devices.
No matter what device you work from — laptop, desktop, tablet or even smartphone — there are some worthwhile accessories that offer protection and convenience. Start with a surge protector; it can stop excess energy from damaging tech. A key number to look for on a surge protector refers to joules, a measurement of energy absorption; 200 should be the minimum, and a higher number is better.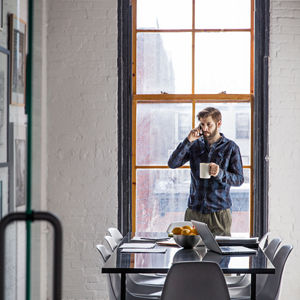 Add an additional layer of convenience with a USB-C plug or multi-port charging hub so you can charge several phones and tablets at once. Or, go wire-free with a wireless charging pad. If you rely mostly on a laptop, consider a laptop stand for a desk, a full-size keyboard and a wireless mouse to help lessen the strain on neck, eyes and fingers. 
Improve productivity.
Multiple programs and loads of open tabs on a single computer can strain productivity, but a second screen helps alleviate that. To connect an additional screen, you'll simply need the right adapter, such as an HDMI cord or a USB-C hub, plugged in to your computer. 
When it comes to a second screen, consider a tablet as a non-traditional, portable monitor for a laptop or desktop. A powerful choice is the Apple 12.9-inch iPad® Pro (2020). It's fast, has advanced display technology and can run multiple apps at once. Pair it with an Apple Pencil and the Apple Smart Keyboard Folio or a new Magic keyboard with trackpad — available in May 2020 — and you might be able to leave your laptop at the office. In addition, the iPad's front-facing camera and studio-quality microphones are great for videoconferencing, a plus for the uptick in virtual calls that comes with working from home.
While cameras are built in nearly every laptop, tablet and phone, a separate webcam and wireless headphones, a headset or wireless earbuds can be helpful for better image and sound quality. The latter are also useful when it's time to block out distracting work-from-home noises.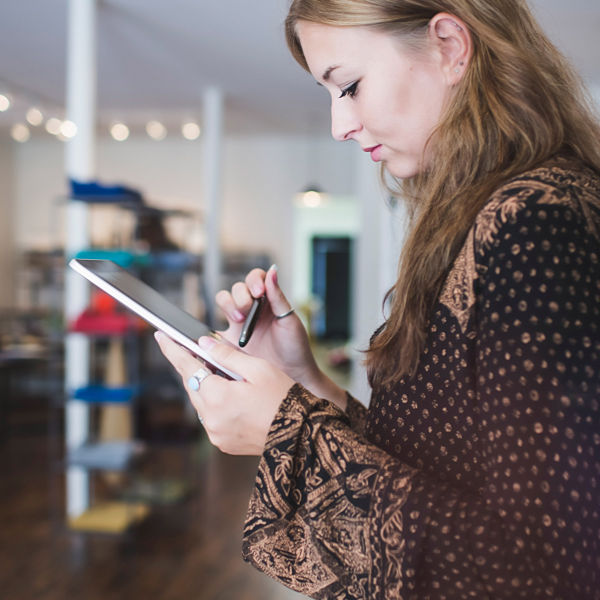 Stay connected with a Wi-Fi range extender and hotspot capabilities.
An on-site IT department when you work from home isn't an option, but there are some solutions to help improve calls and internet signals. For a boost in phone signal, the Samsung 4G LTE Network Extender 2 adds a coverage radius of about 50 feet — and can support up to 14 devices at once. And to up the Wi-Fi signal, rely on a mobile Verizon hotspot device. Bonus: You can bring it with you for a protected connection no matter where you are. Remember: If you're using at-home data, make sure to monitor limits so you don't incur overage charges. 
Minimize distractions and boost comfort in your home office.

Any work-from-home setup usually involves a little multitasking. The doorbell may ring when a package gets dropped off, or you may want to drown out neighborhood noises with music or a podcast. For that, turn to a digital assistant such as the Google Home Hub or the Amazon Echo Show 5. Both provide a smart speaker and customizable displays to help organize your day. And take advantage of pro-smart tips to minimize work-from-home interruptions, such as call forwarding.
Enjoy a home office that works harder — for you.
A few key accessories and tech items can protect your devices and help you get more connectivity out of your at-home work time. Choose the mix that's best for you and your needs to make the transition from home to work and back again even easier. Click here for more ideas.
This content is provided for information purposes only. All information included herein is subject to change without notice. Verizon is not responsible for any direct or indirect damages, arising from or related to use or reliance of the above content.