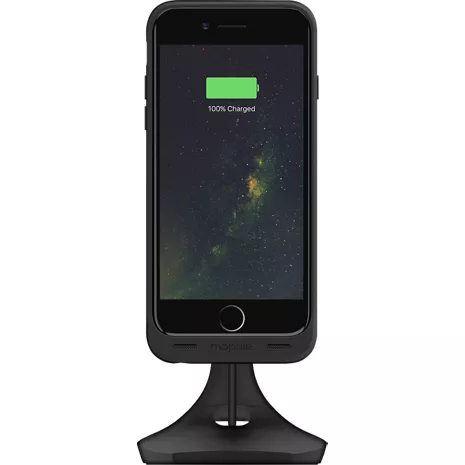 This item is currently only available for Express Pickup. 
Select a store to continue.
Free returns within 30 days.Details
Overview tab selected 1 of 4
Overview Section Start
A force to be reckoned with, the charge force™ desk mount by mophie brings new meaning to convenient, wireless charging. Just place the charging mount on your desk, kitchen counter or wherever you prefer to give your smartphone a power boost.

To recharge your phone, simply tap your mophie charging juice pack wireless case* to the charge force desk mount. The mount's powerful magnets securely hold your smartphone in place and perfectly align it to charge your phone.

Powerful magnets do the work
Say goodbye to searching for the right cable to charge your phone. The desk mount's magnets are strong enough to hold smartphones up to 5.5 inches.

No more cables to get in the way
The desk mount's integrated charging circuitry instantly provides power to your mophie charging juice pack wireless case on contact. No cables needed.

Adjustable viewing angle
The mount is also fully adjustable. Rotate it to portrait or landscape orientation and find the perfect viewing angle for interacting with your smartphone as it's being restored to full power.

What's in the box
One mophie charge force desk mount and a high-current micro-USB charging cable.
Reviews
86% of reviewers recommend this product.
This item not recommend
Stanley Chan 2019 . 4 years ago
Don't buy this product again because Difficult to use
mophie.com Originally posted on mophie.com
Not reliable
I'm on my 3rd replacement. The juice pack is supposed to CV ht ar hdd e phone 1st and juice po pack last. It only charges the juice pack and not the phone. It takes for ever to charge the juice packs. This is for Note 8. The other part that Mophie do is to allow data transfer through the charging port on the juice pack.
mophie.com Originally posted on mophie.com