carousel with 1 slides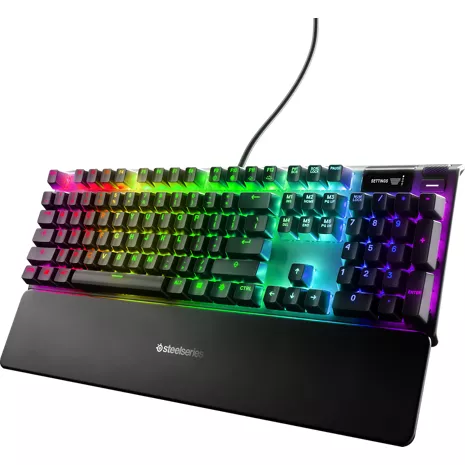 carousel with 1 slides
Take your gaming experience to the next level with the Apex Pro Wired Gaming Mechanical OmniPoint Adjustable Actuation Switch Keyboard with RGB Back Lighting. This luminous keyboard features magnetic sensors for significantly faster response time, as low as 0.4mm for fast, featherlight actuation and is built to withstand up to 100 million keypresses. OmniPoint switches can be adjusted to register at any point between 0.4-3.6mm, to fit your gaming and typing style. The OLED smart display allows you to adjust settings on the fly and customize up to 5 on-board profiles. Dedicated multimedia controls allow you to adjust the volume and other settings on the fly. USB pass-through port and cable routing allow for easy wire management. And, the premium magnetic wrist rest provides full palm support with a durable soft-touch finish.
Reviews
100% of reviewers recommend this product.
Super Fun
Yes, I'd recommend this product.
I've been eye-balling this keyboard for a year and finally pulled the trigger. It's perfect.
Decent
Yes, I'd recommend this product.
I like it. Lighting is good, keys feel perfect, you can change actuation for every single key, color for every single key and it comes with inclined magnetic arm rest which is another plus. Only down side is sometimes the steelseris app won't show the keyboard but that's partly on apps fault. But overall it's a really good keyboard for its price