6 ways Apple AirPods make wireless listening a snap
Crisp sound, smart features and Apple quality.
Whether you're a diehard audiophile or just want to make hands-free calls, chances are you've explored wireless earbuds. The technology has come a long way, from wrap-around, over-the-ear headphones to tiny, cordless units that fit inside the ear.
Apple's AirPods and AirPods Pro take the concept to the next level, incorporating smart features and seamless integration with Apple devices. "Considering the small form factor of the earphones, the amount of tech inside is incredible," writes MacWorld UK. "When looking at other wireless earphones on the market, it's clear to see that Apple has succeeded where others have failed."
Here are 6 reasons why Apple's AirPods are worth considering: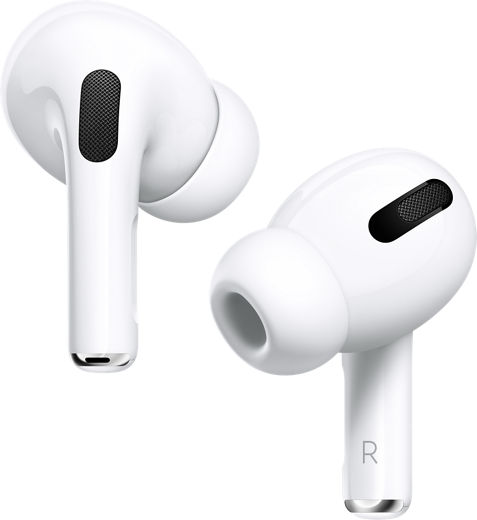 1. Crisp sound: An earbud is only as good as its sound quality. And the AirPods provide quality in spades. "I'm happy to report that the AirPods sound great … with full, detailed sound and plenty of volume," writes MacWorld's USA edition. The AirPods also offer dual mics, which filter out background noise during phone calls.
2. Comfy fit: Reviewers have compared the look of the AirPods to baby candy canes, the heads of electric toothbrushes and futuristic earrings. Regardless of what they look like, the design works—they fit comfortably in most ears and don't fall out. "The AirPods stay put when I'm dancing, headbanging, jogging, hanging upside down, riding my stationary bike, sprinting to catch the bus, and shaking my head around smacking my temple like I'm trying to dislodge water stuck in my ear. Really, they aren't going to fall out," according to MacWorld USA.
3. Automatic on and off: For many, it's the small details that make Apple products such a joy to use. The AirPods deliver, with a feature that turns them on when users put them in their ears—and off when they remove them. "This is a thoughtful bit of design: Apple realizes that people may not realize you're listening to music on wireless headphones, so has added this feature to make those conversations a little easier," MacWorld UK notes.
4. Seamless connection with Apple devices: Connecting AirPods with a Mac, iPhone or iPad is basically automatic. Simply take the earbuds out of their case and put them next to your iPhone. The phone will recognize their presence and ask if you want to connect. It's a seamless process.
5. Double-tap for Siri: The world's most famous automated assistant is integrated into Apple's AirPods. Users can double-tap their AirPods to activate Siri — even if their phone is not within easy reach. Then they can ask Siri for the standard help, from dialing a contact to playing your favorite song.
6. Long battery life: The AirPods provide 5 hours of playback on 1 charge, and up to 24 hours of playback with additional charges. "In the six days I've had them, I've only had to charge them one time," Wired writes. The charging base is the small case that the earbuds come in, which fits in a purse or pocket. Users can check the battery by holding the AirPods next to their iPhone or by asking Siri.
Wireless earphones are continuing to improve. For now, Apple AirPods provide not only what most users need, but also what many have wanted. Check out more headphones, headsets, speakers and more at Verizon.
This content is provided for information purposes only. All information included herein is subject to change without notice. Verizon is not responsible for any direct or indirect damages, arising from or related to use or reliance of the above content.