How Google Photos will help you organize smartphone pics
Google's new cloud-based photo storage service includes powerful pattern and facial recognition to help you quickly find images.
According to estimates by InfoTrends, a total of 1.2 trillion digital photos were taken in 2017, which is roughly 160 pictures for every one of the roughly 7.5 billion people on earth. Many of these were taken with smartphones, which is making it easier than ever for non-photographers to easily capture the world around them.
But, how do you keep track of all of those photos?
Enter Google Photos, a  cloud-based storage service available on Android™, iOS or your computer's web browser. It promises to help better organize your gazillion pictures and videos, making finding, editing and sharing them a lot easier. It syncs with your device, making the whole process of backing up your photos seamless.
Sharing photos with Google Photos.
Say you want to share a picture you took of a bridge back in 2009. Where to start? No worries, Google Photos categorizes images with different tags for people, places and things. Using facial recognition, image search capabilities and GPS to quickly hunt down those photos, all you have to do is search for "bridge" to find your needed image.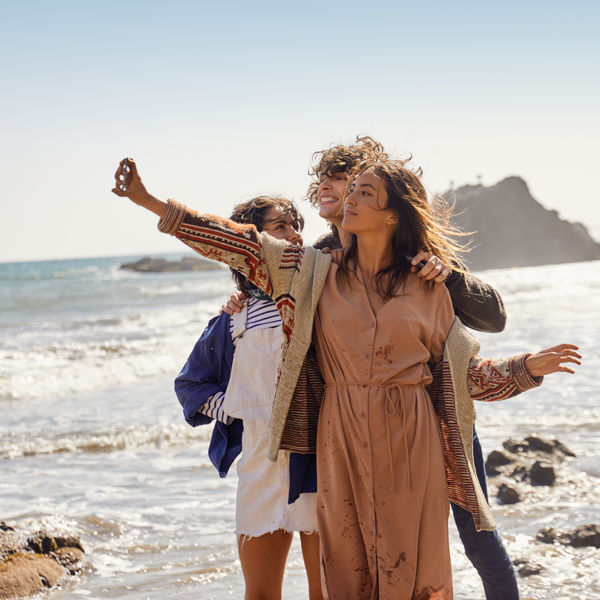 Search for an animal and it will find cats, dogs and more. Although the app automatically groups photos into suggested keywords, you can search using any term that springs to mind.
Besides easy search, Google Photos also lets you create movies, interactive stories and collages from your photos in a simple manner.
"It basically does everything for you, so you can concentrate on taking pictures," says Andrew Weeks, a professional photographer in San Francisco who is a freelancer for Google.
Google Photos offers unlimited storage of pictures up to 16 megapixels and videos up to 1080p in resolution, so you won't have to worry about running out of space. A couple things to keep mind: There will be some minor compression of those photos and larger media files can still be stored, but it will count toward your Google Drive™ storage capacity.
Weeks believes Google Photos will help change the way smartphone shutterbugs share and store photos for the better.
"Very soon, we're going to start taking for granted how easy it is," he says. "We'll be telling kids: 'Back in my day, I used to have to organize my photos!'"
This content is provided for information purposes only. All information included herein is subject to change without notice. Verizon is not responsible for any direct or indirect damages, arising from or related to use or reliance of the above content.