How to take good pictures on a smartphone
Nowadays you can capture frame-worthy photos without a pro-level background. Thanks to advances from Apple, Samsung and Google, the handheld devices once used just for communication can now also serve as pocket-size photo studios. From the iPhone 12 and iPhone 11 cameras to the raved-about Pixel 4a, mobile photography has come a long way and only keeps getting better.
The best camera phones. 
Camera controls such as aperture, exposure, portrait mode and more allow you to be extra creative when taking photos of your favorite people and places. If portraits and detail shots interest you most, consider the Apple iPhone SE or the Samsung Galaxy S20 Ultra 5G, both of which deliver excellent background blur (also known as bokeh). If landscape photography is your passion, the Google Pixel 5 and the Apple iPhone 12 Pro both have ultra-wide lenses. If low-light shots are key, the Samsung Galaxy S21 Ultra 5G and the Apple iPhone 12 Pro Max offer top-of-the-line performance. Ultimately, the best camera phone depends on your brand preference, photo style and budget. 
The photography basics. 
Trying to emulate what you see in all of the iPhone ads? Even if your phone has a great camera, the technology will only get you so far. A basic understanding of photography is a must if you want to take full advantage of your phone's camera features. 
Before you shoot, think about the lighting, background and composition. During the day, look for natural, soft light and do your best to avoid harsh light. If you're at an all-day event, consider waiting to snap photos until right before sunset (known as the golden hour) for a soft, dreamy glow. When shooting portraits, opt for a simple background and position your subject 5 feet away from the background to create depth. 
The best smartphone photography accessories. 
Adding the right gear can take your photography to the next level. Consider a portable tripod like the Joby TelePod Mobile All-in-One Phone Tripod so you can go hands-free and capture the best angles. And don't forget about lighting; With the XQISIT Selfie Ring Light, you can choose from 3 different color modes that you can dim and control remotely. 
The mobile photography movement. 
Phones are making it easier and easier for everyone to learn the art of photography. With your mobile device in hand, you can take photos anywhere. Play around with lighting at home, take nature photos while on a walk or practice landscapes or motion photography on your next road trip. Check out the infographic for more mobile photography tips and tools.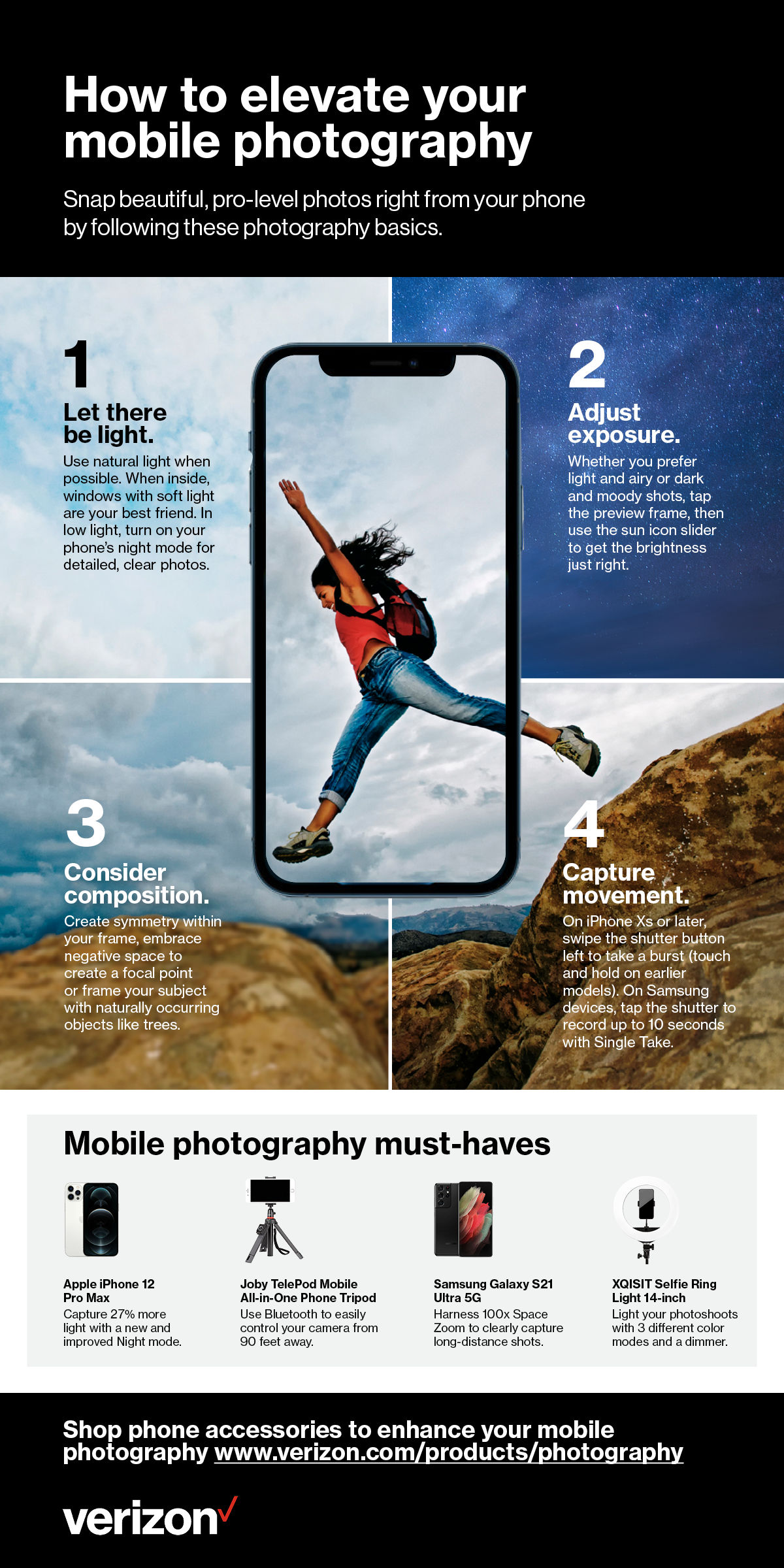 The above content is provided for information purposes only. All information included herein is subject to change without notice. Verizon is not responsible for any direct or indirect damages, arising from or related to use of or reliance on the above content.