10 businesses to start from a smartphone
If you've wanted to drop your office job and work for yourself from home, gig work may be the answer. ADP looked at payroll data for more than 15 million workers and found that the number of gig workers has grown 15% since 2010. 
One in six workers are now a part of the gig economy. Unfortunately for some, the dream is hard to make a reality due to a lack of funds to buy a computer or other types of equipment. Luckily, smartphones have become advanced enough to work as a computer substitute. You can send and receive emails, update your company blog, use your phone as a credit card processor, and invoice clients — all from your phone. 
Whether you're in search of a side hustle or looking to work independently full-time, it's never been easier and more accessible than now. All you need is good mobile internet connectivity and a smartphone. Here are 10 ideas on how to start a business from your phone. 
1. Writer.
If you have good writing and grammar skills and find expressing yourself easy, you can start writing content straight from your smartphone. You could even convert a tablet into a laptop by adding a wireless keyboard. There are apps available that could make the writing process easier. They include:
- Wordpress: For adding new blog posts from your mobile device.
- Pages, Google Docs: For writing your articles and blog posts.
- Grammarly Keyboard: Checks your work for grammar issues, misspellings, and more.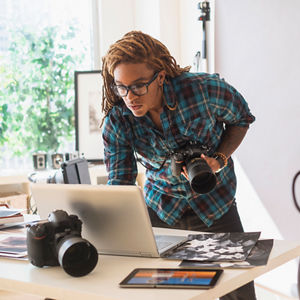 2. Videographer.
Videographers and photographers once required expensive camera equipment to work — but since today's smartphones have HD-quality cameras, you can produce professional-looking content straight from your smartphone. Keep a portable battery charger handy so your smartphone is always ready to capture footage. In addition, you can edit your videos using a variety of video apps, including iMovie, Adobe Premier Rush, and KineMaster.
Smartphones may come with limited storage. You can solve the issue by uploading your videos to your cloud storage account to save or share using Dropbox, Google Drive, or Apple iCloud. Make sure your mobile plan is fast enough to upload large files to the cloud.
3. Mystery shopper.
Becoming a mystery shopper doesn't come with upfront expenses. Sign up for an account with companies such as BestMark and MarketForce, download the app, and look out for the thousands of mystery shopping gigs available per month. The jobs pay $5 to $50 each, depending on how long the gig takes. And the best part is, you get to keep the items you were paid to buy.
4. Life coach.
If you have a passion for helping people and could feel fulfilled working to give others guidance on their life path, a life coach gig is simple enough to start from your smartphone. Set up a social media page and network with groups, friends, and family to find new clients. Life coaching sessions can be done remotely using Skype video chat or by phone call.
5. Event planner.
Some people have a natural flair for style and drama. Add a high level of organization and you can plan events, such as conferences, weddings, and parties using your smartphone. 
You'll need to develop a source list of places where you can buy and rent items, such as furniture, flowers, props, lighting, and more. A planner app would keep you organized so you don't miss a thing. You'll also need to be comfortable multitasking and connected on the go most of the day. Keep all your essentials organized and in reach using a tote or backpack and your smartphone safe by using a protective case.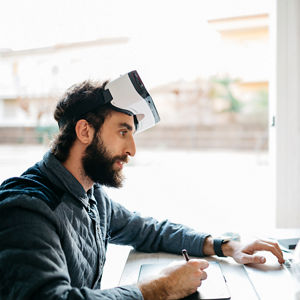 6. Chatbot developer.
Influencers, digital marketers, and small businesses are turning to chatbots to provide a personalized online experience for customers. Chatbot software works with artificial intelligence to generate human responses. 
Developing chatbots is a good business idea due to the growing demand for their use. You don't need programming knowledge when you use platforms such as Dialogflow from a connected device. 
7. Consultant.
If you have valuable experience in a specific field you can leverage that knowledge by working as a consultant. Many businesses contract consultants for help in areas that need specialized attention.
You can set up a webpage or social media account about your services straight from your smartphone and run your business from almost anywhere — even while you're on the road. You may choose to meet in person with clients or remotely through audio using your phone or chat app. Consultants charge by the hour for their services, although you may also negotiate a price for the project. 
8. Tech support.
If friends and family turn to you for help when they're struggling to figure out a computer problem, a gig in tech support may be a good fit. Similar to consultancy, you can work on an hourly or per-project basis to help individuals and companies with their IT needs. 
9. Virtual assistant.
Virtual assistants handle administrative duties for one or more clients. Most of the work you'll be assigned can be handled right from your home office using a smartphone. Typical roles include organizing and responding to emails, fielding phone calls, and managing clients' social media accounts. 
10. App developer.
Developing and selling smartphone apps can be a lucrative business. You may think you need years of coding to be able to make your own, but there are mobile-based app creators, such as App Builder, that allow you to build your own with no coding required. 
As your business grows, you may want to invest in a computer — nevertheless, regardless of how large your app development business gets, you'll always turn back to your smartphone to test what you've created.
This content is provided for information purposes only. All information included herein is subject to change without notice. Verizon is not responsible for any direct or indirect damages, arising from or related to use or reliance of the above content.