Which Samsung Galaxy phone is right for you?
In Samsung's Galaxy there's a phone for everyone. From the S series that is the do-it-all companion to the Galaxy Note, ready for multi-taskers on the go. But how do you know which one is the right fit for you? Our helpful guide walks you through the features, specs and all the things that set these phones apart from one another. From the newly announced Galaxy S21 and its predecessor, the Galaxy S20, to the Galaxy Z Fold2, Samsung offers a robust roundup of Galaxy devices for all your wants. 
The all-new Samsung Galaxy S21.
Designed with all-new seamless metal cameras, modern matte finishes and ultra-tough glass, the Samsung Galaxy S21 series comes in 3 options: the Galaxy S21 5G, the Galaxy S21+ 5G and the Galaxy S21 Ultra 5G. Featuring hyperfast processing and all-day intelligent batteries, these devices help you create, connect and express yourself with speed and stamina. Take pro-quality pictures with 30x Space Zoom and Zoom lock for magnifying details and capturing long-distance shots. Film smooth 8K video using new features like Vlogger View, which allows you to shoot videos using the front and back cameras at the same time. And the Galaxy S21 Ultra takes creativity one step further as the first Galaxy S smartphone compatible with an optional S Pen stylus. With striking color options like Phantom Violet and Phantom Pink — along with classics like Phantom Gray, Phantom Silver and Phantom Black — the latest Samsung Galaxy S21 models look as good as they perform.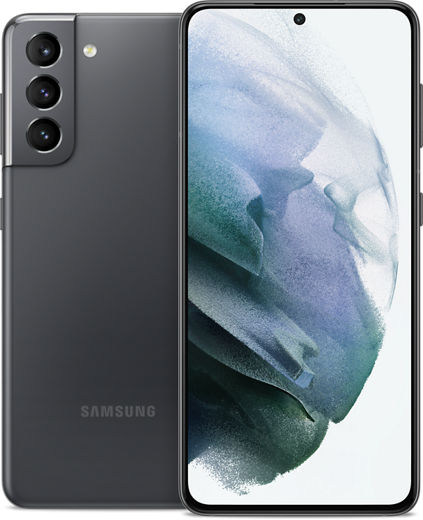 The creative-boosting Samsung Galaxy Note20 5G.
Work and play smarter with the Samsung Galaxy Note20 5G. Use the included S Pen, which stores inside the phone, to capture your latest notes and ideas and convert them to PowerPoint and Word docs. Its faster graphics rendering and supercomputer-like speeds allow you to play, swipe, share and download right from your phone. With a smart battery that lets you work all day and still have enough for gaming at night, the device can also connect to your TV or monitor with wireless DeX. Next-gen filmmakers can record pro-quality 8K video with creative control of exposure, lighting, focus and audio, plus there's 30X Space Zoom for close-ups.
The compact, photography-focused Samsung Galaxy S20 5G UW.
If the S Pen isn't on your list of must-haves, the Samsung Galaxy S20 5G UW still offers all the creative, performance and storage features you know and love in the Galaxy S series. Released just last year and featuring the first‐of‐its‐kind 64 MP camera, the Galaxy S20 makes it easier than ever to take a great shot, whether it's a selfie, a portrait or a vista taken during a hike. You can clearly capture a scene from far away with 30X Space Zoom and never be worried about low-light conditions with Bright Night. With superfast speeds for gaming and streaming, this compact smartphone has the power and storage capacity of a laptop. Featuring an intelligent battery, the device has wireless PowerShare, which lets you transfer your power to other compatible devices — and perhaps help you make new friends. 
The 2-in-1 Samsung Galaxy Z Fold2 5G. 
You don't have to choose between a phone and a tablet with this one: the Samsung Galaxy Z Fold2 5G is a 7.6" tablet when open; when folded, it fits right in your pocket. With fast performance and 5G speeds, the phone has a battery that can last all day. There's also a Power Saving Mode and Super-Fast Charging for when you need a quick boost. Take selfies and watch or record video without a stand using the Flex mode. A true multitasker and on-the-go workspace, the device also has wireless DeX to connect to a monitor or TV. 
The budget-friendly Samsung Galaxy A51.
If you'd like to spend a little less, look no further than the Samsung Galaxy A51. Featuring a long-lasting battery and Fast Charging capabilities, the phone's rich, vivid display showcases your favorite content. The quad-camera system includes a pro-grade 48 MP main camera, a 12 MP ultra-wide lens, a 5MP macro lens for zoomed-in shots and a front-facing 32 MP lens with Flaw Detection for selfies. The camera even adjusts to low-light conditions, and its Super Steady mode helps stable fast-moving subjects for clear video every time.
The trusty, performance-focused Samsung Galaxy S10. 
Released in 2019 (which marked the 10th anniversary of the Samsung Galaxy S series line), the Samsung Galaxy S10 has been a favorite among Android users for its introduction of wireless PowerShare (now standard on all Galaxy devices) as well as its nearly frameless infinity display, crisp screen resolution and Epic Shot camera. The pro-grade, multi-perspective camera captures what you see, day or night. The expandable storage supports up to 512 GB of additional memory, which lets you store photos, movies, apps, and more without worry. And with so much to do on your device, there's an all-day intelligent battery to back you up. You can get it new or Certified Pre-Owned. 
Find and customize your Samsung Galaxy today.
With a broad mix of features and price points, you're sure to find a Samsung Galaxy device that fits your needs. Plus, you can add accessories to further personalize it. Want immersive sound? Pair your Galaxy with the new Galaxy Buds Pro. These wireless earbuds feature an enhanced design to reduce background noise during calls and Voice Detection to answer calls with just your voice. Shop these accessories and more to complete the package for your new Samsung Galaxy device.
This content is provided for information purposes only. All information included herein is subject to change without notice. Verizon is not responsible for any direct or indirect damages, arising from or related to use or reliance of the above content.