Mobile assistive technologies for people with low vision and blindness
Smartphones and tablets are helpful in everyday life. Smartphone manufacturers and software developers offer many accessibility features on mobile devices so people experiencing problems seeing the screen can make phone calls, send texts and emails, surf the web, create calendar events, reminders and notes, take voice recordings, photos and videos, play music, videos, recorded books, play games and access third party apps.
Accessibility features included in mainstream devices
Screen Readers
Screen readers use human-like voices to read elements on a smartphone touchscreen display. Tactile manipulation of the screen will prompt the reader to audibly relay information that otherwise might have been read visually. Functions that rely on initial tactile manipulation may also be activated. So, for example, touching an object on your home screen will prompt the screen reader to "speak" the name of the app to you; double tapping the object again will then open the application.
For mainstream devices, there are two types of screen readers:
Android TalkBack: This screen reader is included on all Android devices. You can navigate via headings, links, controls, and "default," which allows you to read every on-screen element in logical order.

Apple VoiceOver: If you own a smartphone that has iOS, you can ask Siri to "Turn on VoiceOver". It can tell you everything that is happening on your screen, including what percentage your battery is at. VoiceOver also allows you to hear what you are typing as you type it, and it works with all built-in apps as well as many third-party apps.
While both screen readers are similar in function, the operating system they work with is entirely different. Users should consider which operating system they feel most comfortable with when deciding on a screen reader.
Voice assistant / Voice-Activated Functions
Also called voice recognition software, voice-activated functions rely on the human voice to trigger commands on an electronic device. Modern smartphones support this type of software for easier operation, especially for people with low vision. Common voice recognition programs include:
Each voice recognition software solution has similarities and differences to each other — the user should consider which operating system they are most comfortable with to determine which one to use.
Touchscreen Gestures
Touchscreen gestures allow a user to trigger a command by swiping their finger in a certain way across the screen. Instead of pressing a button, the user can use one or multiple fingers to start an action on the phone. Standard gestures include:
Tapping;

Double-tapping;

Dragging;

Flicking;

Swiping;

Three-finger swiping;

Pinching;

Three-finger pinching;

Touch and holding;

Rotating;

Shaking.
iPhones have built-in AssistiveTouch technology that can be turned on in the settings. Android also has an AssistiveTouch app. When activated, AssistiveTouch can help the user gain access to the Control Center, Notification Center, Spotlight, Home, App Switcher, and Speak Screen. Instead of going through menus to access these controls, Assistive Touch puts them all in one place. It is also customizable, so users can add or remove apps at their discretion.
Third-Party Apps for People With Low Vision and Blindness
While many smartphones offer built-in visual assistance apps, there are also many third-party apps that can help people with low vision use their smartphone to its fullest capacity. These apps can help users with low vision identify items in front of them, read digital text, write, and detect light and color.
For both iOS and Android, Be My Eyes is a free app that connects blind and low-vision people with sighted volunteers and company representatives for visual assistance through a live video call.
For IOS, there is Seeing AI which is a helpful all around app. Seeing AI is an intelligent camera app that reads text on the go and tells you who and what is around you. It allows users to read barcodes, signs, documents, and products on the go.  And get more detail about the people and scenes the user may not be seeing clearly. 
For Android, there is Android Accessibility Suite which is a collection of accessibility apps that help you use your Android device eyes-free or with a switch device as well as Lookout, an app that offers modes for Quick Read, Document Scan, Explore and reads Food Labels. Like Seeing Ai, this app also reads barcodes in its Shopping Mode. 
Barcode Readers
Barcode readers can help people with low vision determine the contents of an item by scanning the barcode. The barcode reader app can then relay the item description to the user by using a human-like voice. Typically, the app will activate a camera mode to scan the barcode. Then, the software will run through a range of barcode symbology to interpret the barcode into a readable result — in this case, the name of the item will be read out loud for the user. Common barcode reader apps for people with low vision include:
Color Detectors
Color detector apps contain a database of colors that can help people with low vision easily identify a variety of colors. By taking a picture through the app, the app can help identify colors when you choose an item in the photo. Most color detector apps use artificial intelligence to understand what the phone is seeing. Additionally, the more these apps are used, the more they will "learn" by adding and expanding their library of known colors. Common color detector apps for people with low vision and blindness include:
Dictation
Voice dictation software has been around for many years and is available as both a mobile and desktop app. This assistive technology can help with writing issues — a common problem people with low vision encounter. Dictation software allows a user to write words by speaking them aloud instead of typing. Some devices have built-in dictation tools, including smartphones and tablets that use Android or iOS. Typically, these built-in apps work adequately and don't need an additional learning setup. However, there are powerful and reliable third-party dictation apps available for download, including:
Light Detectors
Light detectors typically use pixels from the user's camera to observe the light in an area. These apps can help a user determine where a light source is located. This can be extremely helpful to remind people with low vision if a light is on in a room. Some apps can also sense daylight or whether lights to indicate power on an electronic device or appliance is on or not. Common apps for light detection include:
Low-Vision Camera
Both iOS and Android have low-vision camera features. Low-vision cameras can help enlarge the text on a screen to make reading easier. Electronic magnifiers can outperform traditional magnifiers; many e-magnifiers offer a wider range of magnification and can be used on websites as well as physical items, like a menu or a book. E-magnifiers also come with LED lights that can enhance the reading experience. Other amenities include auto-focusing, screen freezing, and screenshots. Common low-vision camera apps include:
Money Readers
Many money reader apps use augmented reality (AR) to help users count bills. The app uses the phone's camera to detect the artwork on the bill and automatically counts it for the user. As the phone counts the bill that is placed in front of it, the app will use talk-to-speech technology to announce the amount of the bill. Many of these apps work offline and can identify a number of different currencies around the world. Common money reader apps include:
Reminder Apps
Reminder apps can be beneficial for all smartphone users. Reminder apps that have alarms or reminders that are spoken aloud can help people with low vision and blindness keep track of their day. They can use these apps to remind them about appointments, create routines, keep track of the time, and stay organized. Reminders that use audio recordings can also make it easier to make and store reminders. Common reminder apps with alarms and voice reminders include:
Screen Readers
A screen reader uses text-to-speech technology to translate on-screen text into audible speech. This software application can be used on mobile devices as well as desktop computers. They relay information like text, icons, menus, dialog boxes, files, and folders. A screen reader can relay information by either speech or Braille, depending on the user's preference. Additionally, screen readers can keep up with changing content on the computer or mobile screen, giving the user real-time information. While Apple and Android have built-in screen readers, there are also reliable third-party apps including:
Text-to-Speech
Text-to-Speech (TTS) is an assistive technology that reads digital text aloud. It can help people who struggle with reading as well as those with low vision. TTS can work with every device and text file, including Pages documents, Word files, and online web pages. TTS voices are computer-generated and can be sped up or slowed down depending on the user's preference. Some TTS technology can even read pictures taken by the user. Common TTS apps include:
Accessible Phones and Accessories
There are also smart devices and accessories specifically designed for people with low vision and blindness. Accessible phones must be made to support a range of vision impairments and can include amenities like big buttons, different colored buttons, high contrast screens, and voice recognition technology. These companies have created and optimized phones and accessories so that people with low vision can use smartphones to their full advantage.
Braille Keyboards
Blind people may find it hard to type on smartphones. Luckily, Braille keyboards are available to make it easy to type out text messages and use other apps. Google has integrated a Braille keyboard directly into Android, making the software more accessible without the user needing to download additional software or requiring additional hardware. The keyboard uses a six-key layout, representing one of six Braille dots which can form letters and symbols when tapped in certain combinations. It can also work across all Android apps. Other actions available in the Braille keyboard include:
Delete a letter;

Delete a word;

Add a space;

Create a new line;

Submit text.
Additionally, the iPhone also has a built-in Braille keyboard. Like the Android version, users can tap dots to create text. They can also perform other actions, like:
Enter a space;

Delete a letter;

Create a new line;

Cycle through spelling suggestions;

Enter a carriage return;

Send a text message;

Switch between six-dot Braille and contracted Braille;

Translate;

Switch to a new keyboard.
Assistech
Assistech is a company based in Farmingdale, New York that provides assistive technologies for people who are deaf, hard of hearing, blind, partly sighted, speech impaired, physically challenged, as well as those with mobility/dexterity issues, memory loss, and cognitive disorders. 
Among the phones offered are big button braille phones with Braille keypad make it easier for blind and low vision callers to handle their phone calls and voice-activated phones.
Raz Mobility Lucia
Raz Mobility is a company that is dedicated to ensuring people with disabilities have access to smartphones and other assistive technologies. They offer many devices aimed toward accessibility, including the LUCIA cell phone. This cell phone has big, tactile buttons that are different colors and sizes, allowing people with low vision to easily navigate the phone. Its unique design prevents it from slipping out of the hand and offers audio amplification and a voice guide whenever it's used. Additionally, there is also an SOS button in case of emergencies and a one-touch dial feature so users can contact people quickly and easily.
In addition to providing cell phones, Raz Mobility also offers software that can be downloaded onto Android smartphones and tablets. Synapptic helps people navigate smartphones by:
Providing a magnifier and reader;

Implementing voice commands;

Offering high-contrast menus;

Using remote customer service to access smartphones.
Kapsys
Kapsys is a French company that produces phones for people with low vision and blindness in more than 20 countries, including the U.S. Their phones use the Android software and are 4G compatible. According to the site, it's the only smartphone that offers a triple interface: a touch screen, a physical keyboard and an advanced vocalization system, to accommodate people who live with a range of low vision and blindness.
  They offer three types of smartphones:
SmartVision 3;

Mini-vision 2+;

Mini Vision Lite.
The SmartVision 3 model uses the native Android Talkback application, comes with a large display, voice command and recognition software, a fingerprint sensor, touchscreen, an ergonomic keyboard, and a inductive charger. The Mini-vision 2+ and the Mini-vision Lite models are smaller with only essential applications for more intuitive use. It comes with voice recognition and commands, a keyboard with spaced and ergonomic buttons, vision aids, and practical tools. Unlike the Smart Vision model, the Mini Visions offer two different interfaces: a keyboard and voice commands.
BlindShell
BlindShell is a company that creates accessible smartphones for people who are blind. It offers two types of phones that come with voice control, object tagging, and an SOS button for emergencies. Each phone is tested by blind people, ensuring that the phone is productive and helpful for that community.
The BlindShell Classic and Classic 2 phones are much larger than a standard smartphone and is fitted with big buttons to aid those with vision impairments. There is ample spacing between the keys, allowing easy access and discovery by feel instead of sight. The BlindShell Classic also has a built-in screen reader that speaks every action aloud. There are also built-in dictation and voice control features, so users can use voice commands to make a call and send a text message.
Similar to the Classic models, the Classic Lite model phone is deemed easier to use and focuses on key features that help users stay connected with their friends and family. The LITE model also does not support functions that need internet connections, however, this does ensure longer battery life.
Assistive Smart Home Technology
Automated home technology first emerged in the late 1990s and early 2000s. A smart home allows homeowners to control appliances, thermostats, lights, and other devices through an internet connection with one remote. Smart home technology offers many benefits, including:
Sustainability;

Energy efficiency;

Saving money;

Quality of life.
For people with disabilities, this technology offers unique benefits, including:
Promoting independence;

Enhancing personal health and well-being;

Preventing additional impairments;

Facilitating participation in everyday activities;

Improving individual function.
People with low vision or blindness can take advantage of smart home technology designed with their impairment in mind.
Digital Assistants
A digital assistant is a predictive chatbot that simulates a conversation with people who use it. These assistants perform daily tasks when asked, including:
News reviews;

Sending text messages;

Calling people;

Setting reminders;

Setting alarms;

Answering questions;

Turning on appliances;

Turning on and off lights;

Giving directions;

Ordering and reordering products;

Playing music.
This voice-activated software can understand and carry out electronic tasks. The user can speak a command and the digital assistant will perform it. Examples of digital assistants include:
To help control smart home devices, digital assistants often need a smart plug or to be connected to the same Wi-Fi network. Additionally, with the expansion of high-speed mobile networks operating on 5G, it is possible to fully leverage these smart assistants in a growing number of locations outside the home, even without Wi-Fi.
Automation
Home automation tools can help people with disabilities perform tasks like vacuuming, changing the temperature, or tracking lost items. Although they are similar to digital assistants in that they can help with tasks, home automation tools typically perform one task and are programmed by a timer or triggered by a button. Examples of home automation tools include:
Vacuum robots;

Smart trackers;

Smart thermostats;

Garage door openers;

Smart LED light bulbs;

Smart sprinkler controller;

Video monitors;

Self-cleaning litter boxes;

Automatic pet feeders;

Video doorbells;

Smart door locks.
Accessibility Feature Resource
Not only are there devices with accessible features, but there are also many resource organizations created to help people with a range of vision impairments too. Many of these organizations offer resources beyond mobile technology, including articles, programs and services, monthly meetups, and guides to ensure blind people are included in today's modern technology.
My Computer My Way
My Computer My Way is a step-by-step guide for technology users with disabilities. This resource allows people to make singular adjustments to their electronics based on the type of disability. For instance, people can learn how to:
Make text bigger;

Magnify the screen;

Make your mouse pointer easier to see;

Change colors;

Change fonts;

Use cascading style sheets;

Incorporate built-in speech functions.
These guides can help thoroughly explain how to implement each feature in case the user becomes confused. Users can also find the latest accessibility news articles as well as other tips on accessible technology.
Global Accessibility Reporting Initiative
The Global Accessibility Reporting Initiative (GARI) helps consumers with disabilities find devices that work best for them. GARI helps users learn more about accessibility features on mobile devices and help identify features that would best suit them. People can search by device or disability. They can compare buying options, manufacturers, accessibility features, and accessible apps that are supported by a certain device. GARI also lists and explains the types of features that would be of interest for each impairment. For instance, those with low vision might be interested in the following features:
Tactile markers;

Audible or tactile feedback;

Adjustable font sizes;

Audible cues;

Adjustable brightness;

Size of the display;

Voice recognition;

Ringtone options;

The shape of the device;

Backlit display.
National Federation of the Blind
The National Federation of the Blind (NFB) is the largest organization of blind people. Throughout the states, the NFB coordinates programs, services, and resources to provide information and support children and adults who are blind. In their resource section, users can find tech reviews, podcasts, research papers, and statistics related to vision impairment. Additionally, they provide overviews of popular tools that people with vision impairment can use. Their Independence Market offers an array of products and literature for the blind community. The NFB also provides programs and services including:
Free White Cane Program;

Center of Excellence in Nonvisual Access;

Scholarships and awards;

National Center for Blind Youth in Science;

Early Childhood Initiatives;

Braille Certification;

Career mentoring;

Blind Parent Meeting;

Summer programs.
National Library Service for the Blind and Print Disabled
The National Library Service (NLS) for the Blind and Print Disabled offers a free national library program that includes Braille and recorded materials to people with blindness. The NLS is funded by Congress and books can be mailed free to consumers as "free matter for the blind or handicapped." To be eligible for this program, consumers must be residents of the United States or prove American citizenship if they are living abroad. Additionally, they must be unable to read regular print material. The NLS offers books, magazines, Braille and audio reading downloads (BARD), and BARD mobile apps.
Verizon
Verizon offers a resource center for people with disabilities who are using devices on the network. Their resource center includes:
Quick tips on how to zoom, change color, and use a screen reader;

Accessibility standards they abide by;

Support by disability;

An Accessibility Statement.
They also offer different resources based on specific disabilities, such as:
A visual assistance landing page;

Accessible apps and features;

Fios text-to-speech;

Descriptive video services;

Fios TV channel lineups;

Alternate billing formats;

Unlimited plans;

Prepaid plans;

Connected device plans.
Those living with low vision and blindness may have found it difficult in the past to keep up with modern smartphone technology. However, with the advancement of built-in accessibility apps, the creation of third-party apps, and innovative accessible phones and accessories, they can now enjoy all the benefits smartphones have to offer.
Related Pages
Verizon Plans
Learn more about Verizon Unlimited plans, and find one that fits your family.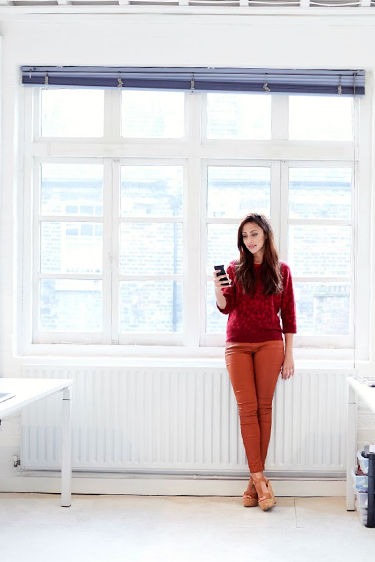 Verizon Deals
Check out the latest deals from Verizon on smartphones, accessories and more.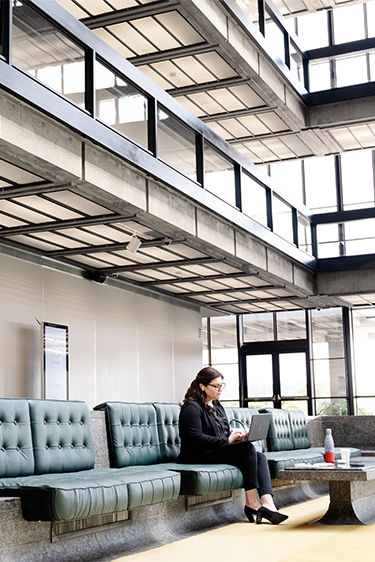 Mix and Match Verizon's New Unlimited Plans
Choose from our 5G unlimited plans - all on the same easy-to-manage account.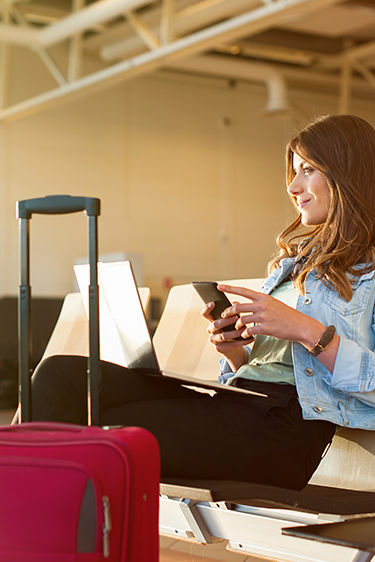 This content is provided for information purposes only. All information included herein is subject to change without notice. Verizon is not responsible for any direct or indirect damages, arising from or related to use or reliance of the above content.