Get vaccinated and get an additional 10% off an accessory
With more people being vaccinated each day, we are seeing a return to normal in our daily activities. Vaccines, masks and social distancing have helped slow the spread of COVID-19, allowing us to reunite with our friends, families and resume certain activities for the first time in over a year.
As a thank you for your participation to help beat COVID-19, Verizon is offering 10% off accessory products to all new and existing customers who have received at least 1 dose of the COVID-19 vaccine.1 This promotion is good for 1 accessory product, so make sure to treat yourself to something you've been eyeing!
Get an additional 10% off an accessory. (It's our way of saying thank you.)
This offer also extends to customers who fall into the category of 'Those Who Serve'.  This includes first responders, nurses, teachers or members of the military. Customers in this category are eligible to use the discount whether they have received a vaccine or not. It's Verizon's way of showing gratitude to the countless men and women who have served their communities during the pandemic.
The 10% offer is even stackable with other deals and promotions, so you can finally get that item you've been completing about purchasing.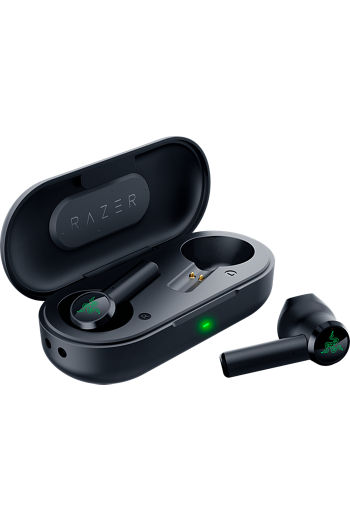 Accessories to consider purchasing with your promo.
The Arlo Video Doorbell is perfect for anyone who wants to add a little extra security to their home. The built-in camera has 180-degree viewing and offers motion-activated notifications with live-stream footage on your phone and tablet. The built-in Smart Siren can be triggered automatically or remotely and you can install it yourself by connecting it to your existing doorbell wiring. This video doorbell makes a great addition to a private home or even an apartment. 
The Canary All-in-One home security System is another option if you're looking for tech to help keep you aware of what's happening on your property. It's similar to the Arlo Video Doorbell but offers a few more high-tech features such as HD recording, HomeHealth Technology and high-quality audio recording. 
Earbuds are always a much-needed accessory to invest in, so consider the Razer Hammerhead True Wireless Earbuds when using your vaccine promo. These wireless earbuds produce high-quality sound you can enjoy on-the-go. Easily switch music tracks, manage calls and use your smartphone's voice assistant with just a touch. But if you're looking to share your music with friends, you might like the JBL Clip4, which is an ultra-portable speaker that comes in a compact, stylish design. Just clip it to your pants, bag or beach chair to enjoy tunes with friends.
Claim your vaccine promo.
To claim your discount, first confirm your eligibility by filling out this form by July 31, 2021.2 (You must be a Verizon customer who has received at least 1 COVID-19 vaccine or a first responder, nurse, teacher or member of the military.) Once your eligibility is confirmed, Verizon will send a text message within 24 hours to your mobile phone with a unique, one-time use promo code to redeem for your accessory purchase.3
Once you receive your code, visit a local Verizon store or verizon.com to purchase an accessory. And don't forget, codes must be redeemed by August 15, 2021.
Check out all the accessories Verizon has to offer and start shopping today.
1. Accessories with a retail price ending in $0.97 are not eligible for the accessory discount. Only 1 promo code per Verizon mobile number will be eligible. If you are not a Verizon customer who has received at least one COVID-19 vaccination or are a First Responder, Nurse, Teacher or member of the Military, you are not eligible for this offer.  Non-Verizon mobile numbers are not eligible for this offer.
2. In compliance with the government, customers must verify they've been vaccinated or are a first responder by filling out this simple questionnaire. Once your eligibility is verified, you'll receive a unique promo code to redeem the 10% discount on accessories. Note, this program is based on the honor system, Verizon will not require customers to show their vaccine card/Those Who Serve I.D.
3. Times may vary. Must be a Verizon Wireless customer to receive the code.
This content is provided for information purposes only. All information included herein is subject to change without notice. Verizon is not responsible for any direct or indirect damages, arising from or related to use or reliance of the above content.