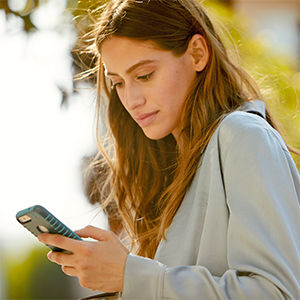 What's the best way to manage my account?
You can get My Verizon as an app or use it on your desktop. It provides you with hands-on monitoring and control of your account as soon as changes happen, so you can curb the digital overindulgences of your family. You can set up your account so you'll automatically receive text or email alerts about your data usage as you approach, meet or exceed your monthly allowance.
What if it's not even close to the end of the month and you've almost drained your data allowance? No problem. With the My Verizon Mobile app, just click on "Change Plan" to conveniently add more data to your plan—which you can do whenever.  It also allows you to view and pay your monthly bill online, block spammers that devour your data, and much more. 
Planning on streaming a movie away from a steady Wi-Fi source? Activate the "Data Boost" feature, which allows you to pay a flat fee for a short burst of unlimited data.
Can I limit an individual's data use?
If you want more control over family members' devices and their (possibly excessive) data use, try Verizon Smart Family. For a small monthly fee, Smart Family lets you pause the internet to help keep data use in line.
Smart Family also lets you view calls, texts and app activity for each of your devices and provides parental controls including on-demand phone lock, blocking contacts, time restrictions and setting limits by line.
The Smart Family app is included in Verizon's Just Kids plan and can be downloaded from Google Play™ or the Apple® App Store℠.