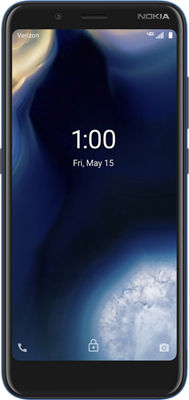 Meet the new Nokia 2 V Tella. It's got all the things you need and a few extras you'll love. Outfitted with all your favorite features like an AI-enabled smart camera, 2-day battery life¹ and an impressive 5.45" HD+ display. Snap stunning photos, even after dark, using the dual rear cameras with depth-sensing technology. Blur the background on your next portrait or add a fun background shape. The dedicated Google Assistant key lets you quickly and easily access all Google Assistant has to offer with a simple tap. And for those who need to power through, the 2-day battery won t let you down.¹ Do more of what you love with the Nokia 2 V Tella and Verizon, America's most awarded network.
Reviews
14 reviews
of reviewers recommend this product.
I'm surprised to see the nasty reviews!
Yes, I'd recommend this product.
Perhaps it's because this is my first smart phone so I really have nothing to compare it to, but I've been very happy with this one.. For my purposes, it's been pretty good! Decent battery life, seems pretty durable so far, real good camera..If I had to address any issues they would be getting rid of the constant annoying android & google things that pop up. Also it seems to really have small memory. The letters on the keyboard are pretty small for my fat stubby hands but I understand that I can fix that. I have learned to ignore the constant ding Google pop ups and I manage my memory. I keep a minimum of apps so that helps as well. I've had the phone over a year and it has been %100 reliable so far..!
Nokia Mobile team - 1 month ago
Thanks for the kind words!
Similar devices
Currently viewing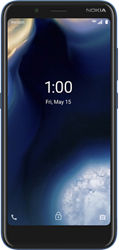 Nokia 2 V Tella
Starts at
$4.66/mo
for 36 months, 0% APR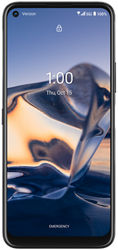 Nokia 8 V 5G UW
Starts at
$19.44/mo
for 36 months, 0% APR
Screen
6.81" HID display | FHD+ (1080x2400) | 386ppi | Aspect Ratio 20:9 | Gorilla Glass 5 | PureDisplay
Storage
16 GB (Subject to availability)
64 GB (Subject to availability)
Rear camera
64 MP Quad camera + 24 MP front facing
1 Based on average battery life under typical usage conditions. Average expected performance based on typical use. Actual battery life depends on factors such as network, features selected, frequency of calls, and voice data, and other application usage patterns. Results may vary.
2 Features needing extra security, passcode requirement is implemented.
3 Complies with IPX2 water resistance testing standard. Do not submerge; dry after exposure to moisture.