5 ways to get more battery for your buck
You live your life on the go. Let us give you five tips on how to find a phone that can keep up with you, and show you how to get the most out of your battery life.
What phone has the best battery life?
It's not rocket science. Longer battery life means more streaming. More gaming. More whatever-you-want-to-do with your phone. But "best" is relative and always changing as technology evolves. The best batteries in 2022 for phones (usually with a 5,000mAh battery) that can last almost 2 days per charge1 include the Motorola edge 5G UW and moto g power (2022). Upgrading to one of those is really easy. You can even do it right from the My Verizon app.
Look for a phone that charges quickly.
You've got places to be. You can't be sitting around waiting for that percentage to go up. Check out phones that can give you a solid charge in a flash, like Samsung Galaxy S22 or Google Pixel 6. And with the S22, you can also share battery power with compatible devices.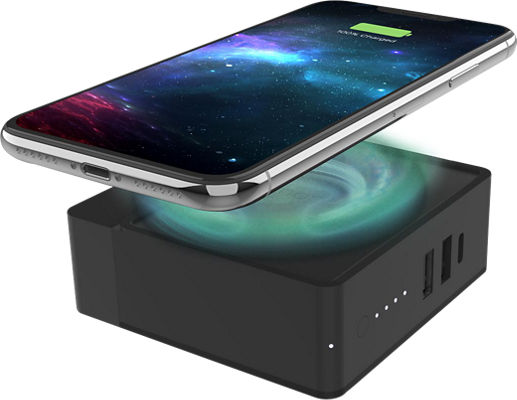 Accessorize with more ways to stay charged.
Once you find the phone that can keep up with you grab some accessories that give you more ways to stay charged. Car phone chargers are lifesavers. Verizon has one that sends power to two devices at once so you can give new life to your phone and tablet. They also have some phone cases that can double your battery life. Or if you're really crazy about it you can take a mobile powerstation with you if you think you won't be near an outlet for a while.
Split your time between devices.
You can also keep from using too much power by splitting up your time between two different devices. It's great having everything on your phone, but watching a movie on it is a total power suck. Adding a tablet to your Verizon account is really affordable. Seriously, you can go completely wireless for less than it costs to have a landline. Get a tablet for your more battery-intense habits and you'll have more charge left on your phone when you want to go handheld.
Okay, so you have some device ideas– but you're not done yet.
Change your settings and manage your apps.
Find the settings and look for things you can change to save phone battery. Lower the brightness on your screen. Turn on any low power modes it has. And definitely watch your apps. You don't want them all sending you notifications 24/7. Be sure to close any apps you're not actively using and check individual app settings and turn off any background app options that are available.
With that, you're all set. Browse Verizon's wide selection to find some devices that will keep you from having to worry about where your next recharge is coming from.
1. Battery life and charge cycles vary with use, settings, and other factors; actual results will vary.
This content is provided for information purposes only. All information included herein is subject to change without notice. Verizon is not responsible for any direct or indirect damages, arising from or related to use or reliance of the above content.