Everything You Need to Know about the Google Pixel 6 and 6 Pro
When it comes to smartphones, the Google Pixel 6 has it all. From its Tensor processor to its all-new camera system, here's everything you need to know about the Google Pixel 6 and the Google Pixel 6 Pro.
Google Pixel 6: features, specs, and more.
The Google Pixel 6 is the latest in the Google Pixel series, and it's been completely reimagined, inside and out. Powered by Tensor, Google's first-ever processor, this smart, fast and secure phone adapts to users. The new, custom-built chip by Google keeps your phone fast and your personal information safe, and ensures you can game, surf the web, work from home, and more at top speeds and performance all the while.
The Pixel 6 also boasts a 50-megapixel camera with larger sensors that help you capture more color, detail, and light than its predecessor, the Pixel 51. Additionally, the Google Pixel 6 offers Portrait Mode, Motion Mode, and a Face Unblur2 option, ensuring faces in photos come out crystal clear time and time again. 
The Pixel 6 also offers a long-lasting battery3, with the option to engage the Extreme Battery Saver mode, which can aid in your phone battery lasting for up to 48 hours. You can also control which apps run in the background on your Pixel 6, ensuring you're optimizing battery life and using energy when and where you need it most.
The Pixel 6 is also IP86 protected4, meaning it's long-lasting and durable, with great resistance to drops, scratches, and life's other surprises. And, with 5G5 capabilities, this android smartphone has the potential to operate at lightning-fast speeds when paired with Verizon, the network more people rely on.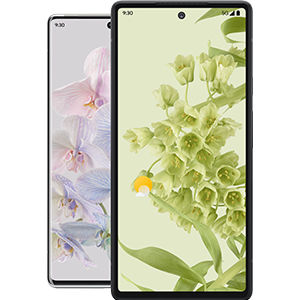 Google Pixel 6 Pro: features, specs, and more.
Wondering what difference there is between the Google Pixel 6 vs the Pixel 6 Pro? We're glad you asked!
Though the Pixel 6 is a powerhouse of a smartphone in its own right, the Pixel 6 Pro offers a slightly larger camera (allowing up to 20x Super Res zoom6), a large display (clocking in at 6.7"), larger internal storage space (up to 512GB), three of fun colors (Cloudy White, Stormy Black, and Sorta Sunny) and more.
The Pixel 6 Pro also includes all the high-tech features available in the standard Pixel 6 model, including the Tensor processor, long-lasting battery, and 5G capabilities. 
Google Pixel 6 accessories to shop now.
Looking for some sweet accessories once you've purchased your brand-new Google Pixel 6 or Pixel 6 Pro? You can shop all kinds of Google Pixel accessories with Verizon, including the super-fast Google Pixel Stand 2nd gen wireless charger, Google Pixel Buds A Series to listen to your favorite tunes and podcasts, have a quick chat with friends and family, and more with wireless earbud ease, and beyond! 
Additionally, Verizon has a range of Pixel 6 and Pixel 6 Pro cases and screen protectors that you can shop now. 
Google Pixel 6 and 6 Pro: Bottom Line.
All in all, the Google Pixel 6 series is a great choice for any smartphone user. Both the Pixel 6 and Pixel 6 Pro operate on Android 12 software, and offer Google Assistant voice assistance options. For users looking for top speeds and performance power, the Pixel 6 Series is a great choice. Shop the Pixel 6, Pixel 6 Pro, and more Google smartphones here with Verizon, the network more people rely on. 
1. Compared to Pixel 5 and Pixel 4a (5G).
2. Deblurring may not work on all photos or videos with faces.
3. Maximum battery life based on testing using a mix of talk, data, standby, and use of other features. Battery life depends upon many factors and usage of certain features will decrease battery life. Battery testing conducted by a third party in California in mid 2021 on pre-production hardware and software, using default settings. Battery testing conducted using two major carrier networks using Sub-6 GHz non-standalone 5G (ENDC) connectivity. Actual battery life may be lower.
4. Designed to comply with dust and water protection rating IP68 under IEC standard 60529 when each device leaves the factory but the device is not water or dust proof. The accessories are not water or dust resistant. Water resistance and dust resistance are not permanent conditions and will diminish or be lost over time due to normal wear and tear, device repair, disassembly or damage. Dropping your device may result in loss of water/dust resistance. Liquid damage voids the warranty. See g.co/pixel/water for details.
5. 5G Ultra Wideband available in select areas. 5G Nationwide available in 2,700+ cities.
6. Not available for all camera apps or modes.
The above content is provided for information purposes only. All information included herein is subject to change without notice. Verizon is not responsible for any direct or indirect damages, arising from or related to use of or reliance on the above content.