Sell or Trade-in a Phone: Which Is Better?
Choosing a new phone also means figuring out what to do with your old one. Do you sell your old phone or trade it in? It's really a matter of how much time you have, the condition of your phone and the current deals carriers are offering. Let's take a side-by-side look at the differences to help you choose what's right for you.
| | |
| --- | --- |
| If you choose Verizon trade-in | If you choose to sell your old phone yourself |
| Verizon manages the process, start to finish | |
| | |
| Verizon provides shipping materials to return the phone at no extra cost | You are responsible for delivering the phone to the new owner |
| Verizon sends directions for wiping your device, then wipes it a second time at the processing center  | You wipe the device and restore it to factory settings  |
| You can choose to receive a gift card, account credit or, in some cases, instant credit to apply to a new phone or upgrade (takes 1–2 billing cycles) | You'll likely receive cash for your phone unless you negotiate otherwise |
| The process is quick and straightforward | Timeline depends on finding a buyer |
| Verizon will likely accept the phone as long as it's in working condition | May have competition for your model |
| Trade-in credit can be easily applied to your bill, new phone or other Verizon products | You can use the cash for anything, minus any charges you might have to pay like shipping or commissions  |
| Verizon reuses 92% of trade-in devices and adheres to a zero-landfill policy | You won't know what happens to your phone after you sell it |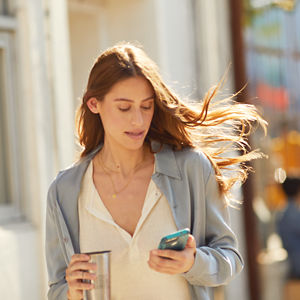 What's your phone worth?
Use these cues to help figure out what condition your phone is actually in. 
Newer model, pristine condition.
Good news: this is a big payoff whether you sell or trade. If you want to trade, start with Verizon's simple online appraisal tool. (That total could change after the actual trade happens.) 
Older model, OK condition.
Age affects trade-in value; newer models are just worth more. If you're selling it, check the state of the current market before you set a price so you don't under (or over) charge. 
Cracked screens and other issues.
Verizon doesn't accept damaged phones for trade-in, but you can still complete the online appraisal process to be sure. And if you're prompted to send the phone back, Verizon will take it and recycle it. 
Note: if it's a newer model, fixing the issue may be worth it. Get a quote and evaluate it against the trade-in value for a working phone of the same model. The quicker you get it fixed, the more valuable it'll be if you do decide to trade or sell.  
Save time if you trade in your phone.
If trading in is your best move, use the Verizon Trade-in Program to get started. It walks you through prompts for appraisal, and if your phone is eligible for credit, Verizon sends no-cost return-shipping materials to you. 
No matter which option you choose, always do this.
Whether you sell or trade, one critical to-do list applies to both:
Back up your phone's data. Apple iPhone users: make sure to include Messages. You may have photos and important info hidden there.

Wipe the device.

Restore the phone to factory settings.

Remove the SIM card (if applicable).
Getting started with Verizon Trade-in.

New phones are fun — and old phones don't do any good sitting in a drawer. Get the most out of your old device with Verizon. And check out this list of FAQs if you need more help. 
This content is provided for information purposes only. All information included herein is subject to change without notice. Verizon is not responsible for any direct or indirect damages, arising from or related to use or reliance of the above content.