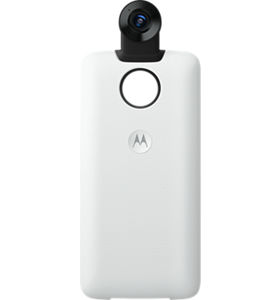 Next-gen 5G Ultra Wideband connectivity.
There's one more mod that early adopters of 5G technology are particularly excited about. Available exclusively from Verizon, the Motorola 5G moto mod allows you to access the lightning-fast power of our 5G Ultra Wideband wireless network.
With projected speeds up to 10 times faster than today's wireless technology, 5G offers unprecedented capabilities, including reduced latency and increased capacity. Users can stream 4K movies with virtually no buffering, video chat in HD with nearly zero lag and enjoy console-quality multiplayer gaming on the go. The Verizon 5G Ultra Wideband wireless network has already been introduced in parts of Denver, Chicago, Minneapolis and Providence. And with plans to roll out to dozens more major cities in 2019, it may be coming to your neighborhood sooner than you think.
In order to connect to our 5G network with a 5G moto mod,  you'll need to have a Motorola moto z3 or Motorola moto z4 smartphone, a location within Verizon's 5G Ultra Wideband coverage area and a compatible 5G unlimited smartphone plan. Visit our 5G coverage page to learn even more.
Get ready for the future.
Technology has changed a lot in the last 10 years. And with the arrival of 5G, it's bound to change even faster. With 5G, you can expect ultra-low lag times and greatly-increased capacity for allowing more devices to access your network at any given time. Verizon is leading the way in the next mobile revolution. Shop our latest smartphones and products today.
*All battery life claims are approximate and based on a mixed use profile (which includes both usage and standby time) under optimal network conditions. Actual battery performance will vary and depends on many factors including signal strength, network configuration, age of battery, operating temperature, features selected, device settings, and voice, data, and other application usage patterns.