Transform Your Motorola Smartphone with moto mods
Who wouldn't love a smartphone that can instantly upgrade itself with fun attachments like a boom box, movie projector or long-lasting battery pack? It's not science fiction or some far-out gadget. It's already possible with moto z phones and moto z mods, and there's nothing else like them in the mobile world today.
Designed to work exclusively with Motorola's moto z Android smartphones, moto mods are innovative accessories that attach to the back of your phone with integrated magnets.  With the power of the moto mod, you can customize any moto z phone with new experiences that reflect the things you love.
Installs with a snap.
Each mod snaps easily onto the back of any moto Z-series phone using a collection of super-strong built-in magnets. The moto mods connector on the back of your device provides a high-speed connection, enabling the phone and moto mod to communicate with one other. Once your moto Z phone recognizes the device, it only takes a single tap on your display to complete the one-time setup. Once installed, moto mods communicate with your phone to greatly expand on its capabilities.
These cool little accessories are also easy to share. Swap any mod from one phone to another --no pairing required. Plus, the mods are "hot-swappable," which means they can be attached or detached while your phone is still on.  Check out Verizon's full selection at our moto mods accessory page.
Verizon currently offers 2 of the newest and most advanced Z-series phones, the moto z3 and the moto z4.  The moto z4 boasts a 48 MP rear-facing camera sensor for taking brilliant, high-quality photos, up to 2 days of battery life*, a massive OLED display with built-in fingerprint display and more.  Even more importantly, both phones are 5G-upgradable. But we'll get into that a bit later on.
Endless possibilities.
There's a moto mod for just about anything you'd want to do. Turn your phone into a virtual boom box with a moto mods speaker, shoot and edit 360° videos with a moto mod camera, watch movies on a moto mods projector and more. Check out the capabilities of just a few of the most popular mods Verizon currently offers: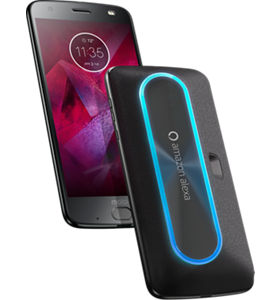 JBL SoundBoost2 moto mod: 

Delivers powerful, immersive JBL stereo sound with your music, stereo and speakerphone calls for up to 10 hours before using your phone's battery.*
moto Smart Speaker with Amazon Alexa moto mod:
Plays music with high-quality stereo sound, gives you answers and support from your smartphone and adds up to 15 hours of power to your phone using a built-in battery.*
Motorola Insta-Share Projector moto mod :
Turns any flat surface, including indoor walls, outdoor camping tents or ceilings, into a 70-inch big screen and instant theater for your favorite pictures and videos.
Motorola moto 360 Camera moto mod:
Records stunningly interactive audio and video. Access advanced editing tools on your phone and share your creations with friends over social media in real time.
mophie juice pack Battery moto mod: Adds up to an extra 60% of battery power to your compatible moto Z phone for texting and talking on the go without fumbling for batteries or searching for open wall outlets.*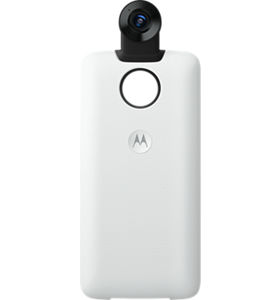 Next-gen 5G Ultra Wideband connectivity.
There's one more mod that early adopters of 5G technology are particularly excited about. Available exclusively from Verizon, the Motorola 5G moto mod allows you to access the lightning-fast power of our 5G Ultra Wideband wireless network.
With projected speeds up to 10 times faster than today's wireless technology, 5G offers unprecedented capabilities, including reduced latency and increased capacity. Users can stream 4K movies with virtually no buffering, video chat in HD with nearly zero lag and enjoy console-quality multiplayer gaming on the go. The Verizon 5G Ultra Wideband wireless network has already been introduced in parts of Denver, Chicago, Minneapolis and Providence. And with plans to roll out to dozens more major cities in 2019, it may be coming to your neighborhood sooner than you think.
In order to connect to our 5G network with a 5G moto mod,  you'll need to have a Motorola moto z3 or Motorola moto z4 smartphone, a location within Verizon's 5G Ultra Wideband coverage area and a compatible 5G unlimited smartphone plan. Visit our 5G coverage page to learn even more.
Get ready for the future.
Technology has changed a lot in the last 10 years. And with the arrival of 5G, it's bound to change even faster. With 5G, you can expect ultra-low lag times and greatly-increased capacity for allowing more devices to access your network at any given time. Verizon is leading the way in the next mobile revolution. Shop our latest smartphones and products today.
*All battery life claims are approximate and based on a mixed use profile (which includes both usage and standby time) under optimal network conditions. Actual battery performance will vary and depends on many factors including signal strength, network configuration, age of battery, operating temperature, features selected, device settings, and voice, data, and other application usage patterns.
This content is provided for information purposes only. All information included herein is subject to change without notice. Verizon is not responsible for any direct or indirect damages, arising from or related to use or reliance of the above content.