Activate Your Razer Phone 2 Mobile Gaming Device at Verizon
Razer's premium flagship device offers next-level refresh rates and leaderboard performance for the ultimate mobile gaming experience.
Buy it there, bring it here. Now you can activate your unlocked Razer Phone 2 with Verizon, America's most awarded network. Already own the Razer Phone 2, or thinking about buying one in the future? Activate it using the Bring Your Own Device page or login to My Verizon to add it to an existing line. There's never been a better time to start enjoying all the benefits the nation's largest and most reliable 4G LTE network has to offer.
Flagship gaming.
The Razer Phone 2 comes with the features you'd expect from a flagship smartphone, including water resistance,* wireless charging compatibility, dual 12 MP cameras with image stabilization and a seriously long-lasting 4,000 mAh battery. Looking for a gaming device that's sure to turn a few heads? The Razer Phone features a captivating logo that turns different colors using Razer Chroma™ RGB lighting.
Better and brighter.
Get in the game with a 5.7-inch QHD 120Hz Ultramotion Display that delivers lightning-fast refresh rates and a 50% brighter screen, ideal for viewing your display even in direct sunlight. "Colors pop, graphics are sharp, and everything on screen has ample saturation with good contrast," reports The Verge.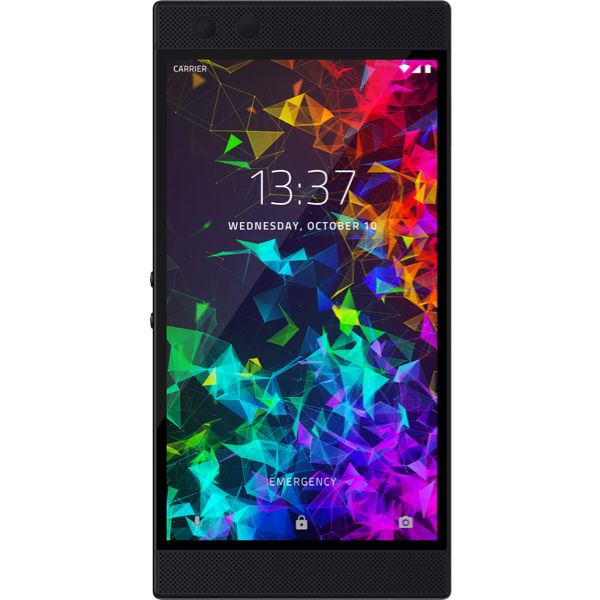 Leaderboard performance.

Take lag out of the equation with a super-powerful Snapdragon 845 2.8GHz processor. The Razer Phone 2 was built for smooth performance and features cutting-edge thermal materials that prevent overheating. So even when you're playing a graphic-intensive game for hours on end, the custom vapor chamber cooling system will help keep your fingers cool and comfortable.
Bring the noise.
"As you might expect," writes Engadget, "the [Razer Phone 2's] sound is stellar, with loud volume and crisp, well-balanced audio." The smartphone comes loaded with dual front-firing speakers powered by Dolby Atmos. Which means you you'll enjoy a more cinematic auditory experience, whether you're playing games online with friends or streaming a TV show during your work break. And serious audiophiles rejoice -- the Razer Phone 2 includes a 24-Bit USB-C digital audio converter (DAC) for 3.5 mm jack compatibility.
Certified unlocked.
Available in Mirror Black and Satin Black colors, the Razer Phone 2 can be purchased from outside retailers. Activate yours today by visiting Verizon's Bring Your Own Device page.
*IP67-certified to protect from water at a depth of up to 1 meter (3.3 feet) for up to 30 minutes.
This content is provided for information purposes only. All information included herein is subject to change without notice. Verizon is not responsible for any direct or indirect damages, arising from or related to use or reliance of the above content.