Verizon One Talk
Get the reliable, flexible, affordable cloud-based phone system for business that's mobile centric. And get even more ways to connect with BlueJeans Meetings integration.
Flexible plans.
Tailored for your
business.
One Talk offers options to fit any business, today and tomorrow. Talk with a representative to get just what you and your employees need.
One Talk Standard
Best for cost conscious businesses with basic communications needs.

Starting at

$15/mo
Per user.
Includes One Talk, Side View Basic integrations and BlueJeans guest access through the One Talk app.
One Talk Plus
Best for businesses with a mix of remote, mobile and office-based employees who need to call and collaborate regularly.
Starting at
$19/mo
Per user.
Includes One Talk and BlueJeans Enterprise (named meeting host) in a single app and Side View Basic integrations.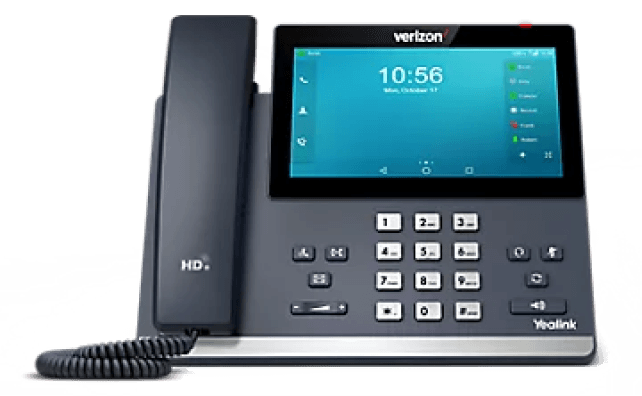 One Talk T67LTE
The country's first cellular desk phone. Easy to use with an adjustable 7-inch touch screen, eSIM, WiFi & ethernet support, Bluetooth and more.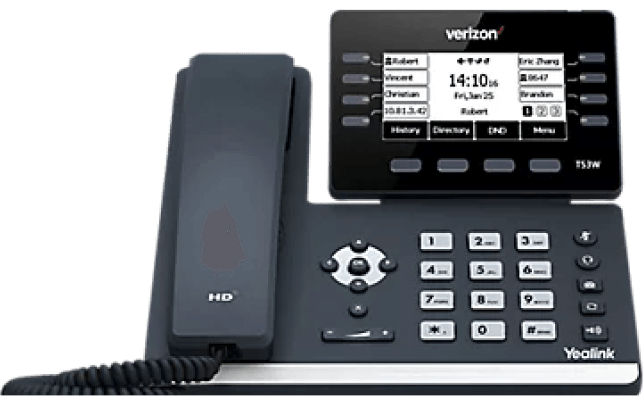 One Talk T53W
Coupled with the latest version of Yealink Optimal HD Voice technologies, the T53W eliminates background noise and delivers crystal clear voice, even in noisy environments.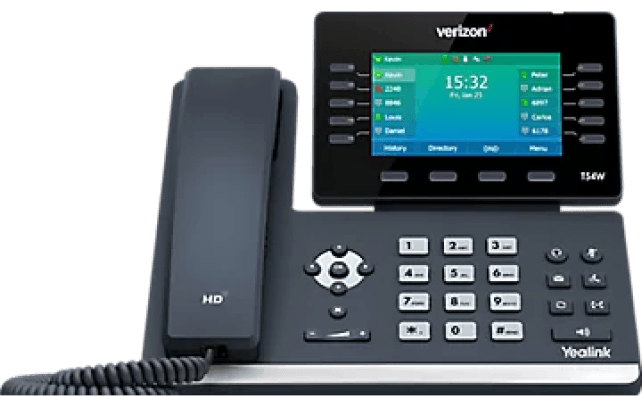 One Talk T54W
Specifically designed for busy executives and professionals, the T54W is an easy-to-use business phone with an adjustable 4.3-inch color LCD.
See how businesses are using One Talk.
With 50+ features to help boost productivity, improve customer services and transform collaboration on the go or in the office, you'll wonder how you worked without it.
Communications for today's remote workforce.
See how One Talk uses features like Auto Receptionist and Hunt Group to route calls to the person—in or out of the office—best able to answer.
Work with the leader in customer value.
Learn why Frost and Sullivan recognized Verizon as a stand out among North American providers that can provide considerable value to businesses with a mobile or hybrid workforce.

One Talk for
Public Sector
Help keep your organization and employees connected almost anywhere. For more information, call 1.844.825.8389.
One Talk starts at $15 per line, but a One Talk representative will work with you to customize a package that meets your business needs.