A simplified way of thinking about how companies use technology to strengthen customer loyalty is to separate the "front end" from the "back end." The former comprises all the ways that brands interact directly with their customers, including websites, chatbots and apps. The latter consists of the ways in which brands seek to better understand their customers—such as by using data analytics—as well as the mostly cloud-based infrastructure they use to deliver richer, faster and more efficient interactions.
Bradly Sax, US-based Vice President of Customer Strategy & Experience at Lendlease, a global infrastructure and investment group, has observed huge progress in recent years in the extent and sophistication of companies' use of emerging technologies to improve the front end. He provides as examples the use of chatbots and mobile apps, as well as selfservice kiosks in stores.
That view is supported by the survey findings. The respondents put chatbots at the top of the list of technologies that have had a significant positive impact on their companies' key customer-loyalty indicators in the past two years. Following closely in terms of impact is AI which, among other things, powers many types of chatbots in use today.
Loyalty-building technologies: An industry view
The impacts of emerging technologies on efforts to foster customer loyalty vary by industry. For example, while respondents from retailers and financial services providers laud the positive impact of chatbots on their customer-loyalty efforts, executives from utilities also emphasize the impact of automation technologies. Insurers, meanwhile, say that predictive analytics have considerably boosted their efforts, while telecom sector respondents highlight the beneficial impact of 5G technology.



Loyalty-boosting technologies



Figure 4: Technologies having the biggest positive impact on companies' key customer loyalty indicators in the past two years; overall and by industry.


When it comes to generating and acting on insights from data about customer behavior, however, Sax believes that companies have only scratched the surface. "AI has much more to offer brands in helping them understand customers' spending habits, their journeys, and what attributes of that are most closely connected to loyalty, satisfaction and purchase behavior," he says.
According to Sana Mohammed, McDonald's has sought actively to combine those capabilities. "We have, for example, a global data analytics hub that leverages AI and ML and helps us understand which technologies we should apply to particular business challenges, including in how we interact with our customers," she explains.
Investing in the future
Respondents' companies will continue to prioritize development of their AI capabilities (including chatbots) to support efforts to strengthen customer loyalty. AI and ML are their top priorities for technology investment over the next two years. Technologies that are currently less well established will also attract greater investment. Chief among these is AR.
Interestingly, the stated intentions to invest in AR and virtual reality (VR) are stronger among companies that have seen a deterioration in customer loyalty indicators than in those registering improvement. The "net decliners" evidently see these immersive technologies as the best way to enrich interactions and reconnect with their customers.
A sector comparison shows that financial services providers and retailers, as well as utilities, are placing bets on their development of AR capabilities, while media companies are keenest to invest in VR. Consumer goods producers, meanwhile, appear to be prioritizing investments in predictive analytics and sentiment analysis.


Tech investment priorities to strengthen customer loyalty



Figure 5: Technologies holding the highest investment priority over the next two years in support of efforts to improve customer loyalty; overall and by industry.



When to expect customer loyalty returns from emerging technologies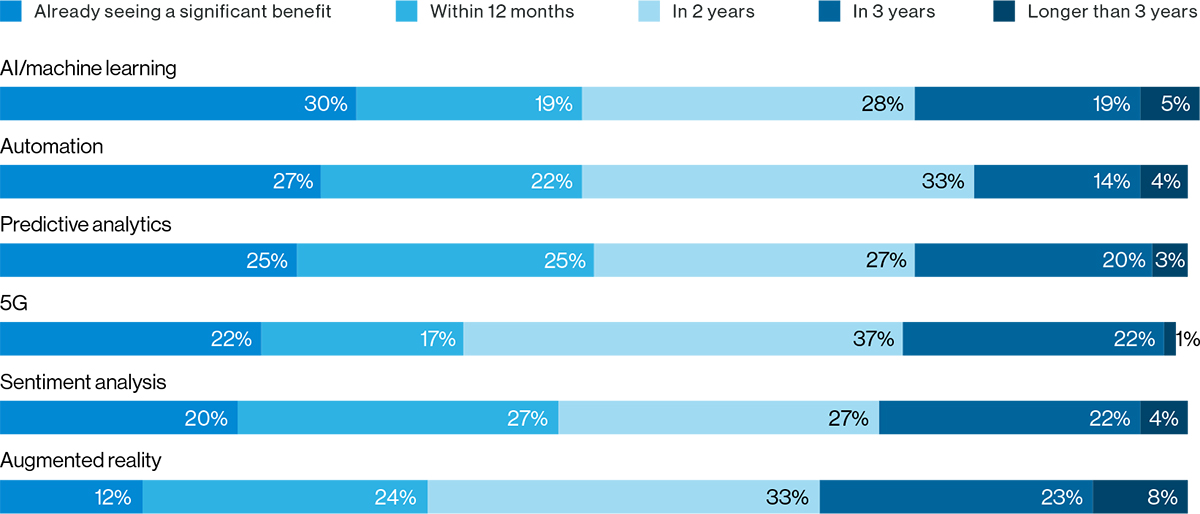 Figure 6: The time frames in which companies expect to see a significant benefit from the use of emerging technologies in their efforts to improve customer loyalty.

Telling stories to your customers
Chip, a UK-based fintech that allows users to invest in assets, funds and savings accounts, interacts with its clients primarily through its eponymous mobile app. While the company supports its chatbot-based service with an in-house customer-service team, most of the information its customers obtain is from self-service functions in the app itself or the chatbot. According to Alex Latham, the company's co-founder and Chief Marketing Officer, Chip will soon be ramping up its self-serve content.
In the near term that will be achieved through the launch of in-app video stories, Latham enthuses. "These will look and feel exactly like Instagram stories, but they will be inside our app. They will help users understand how to get the most out of the app and, more broadly, the ins and outs of investing."
Initially, says Latham, all app users will select any video they want but, later, the function will get smarter. Eventually, different videos will be offered to different types of users based on analysis of user data. "We know, for example, that some users have a balance in Chip of £100k [around US$120k], whereas others have a balance of around £500 pounds [$600]." Each group is likely to require advice specific to its investment capacity, Latham explains.
"Since the stories we develop are based on the pain points customers are telling us about," he says, "we think this capability will enhance the trust they have in us."