Many workplaces changed fundamentally with the COVID-19 pandemic. To better understand how the workplace looks today—and the changes that still need to occur—Omdia, on behalf of Verizon, surveyed 1,128 business decision makers (BDMs), IT decision makers (ITDMs) and employees.
Our report on the survey findings explores the challenges, goals and priorities that organizations like yours are facing and provides guidance on how to lead in the new workplace.
Employees see the world differently.

We found significant differences between how BDMs and employees view the workplace—a phenomenon we call organizational myopia, or corporate shortsightedness. And often IT is caught in the middle.
BDMs were about twice as likely as employees to say personal productivity and employee well-being had improved since the pre-COVID era. And they were three times more likely than employees to say customer satisfaction had improved.
ITDMs were slightly less optimistic than BDMs but more positive than employees about whether productivity, employee well-being and customer satisfaction had improved.
Employees and BDMs also differed on whether employees have the tools and the flexibility they need to work effectively wherever they are. BDMs were more likely than employees to say their organization provided them with the tools and flexibility needed to succeed, such as:
Contact center technology (87% of BDMs vs 67% of employees)
Collaboration and communication technology (93% of BDMs vs 76% of employees)
Business systems and technology (94% vs 74%)
Flexibility to work wherever they are most productive (91% vs 76%)
These were just a few of the areas where we found large gaps between how corporate decision makers, IT decision makers and employees view the workplace and the tools they use. The full report contains detailed results.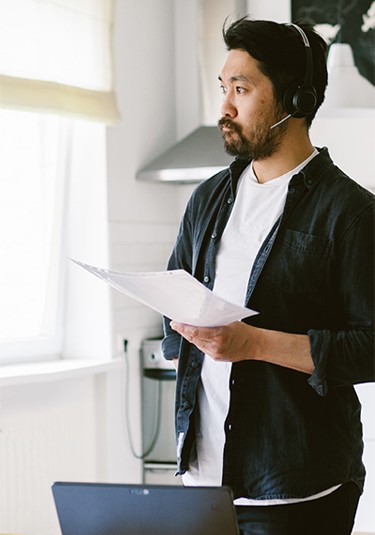 How have the following changed in your organization compared with pre-COVID-19?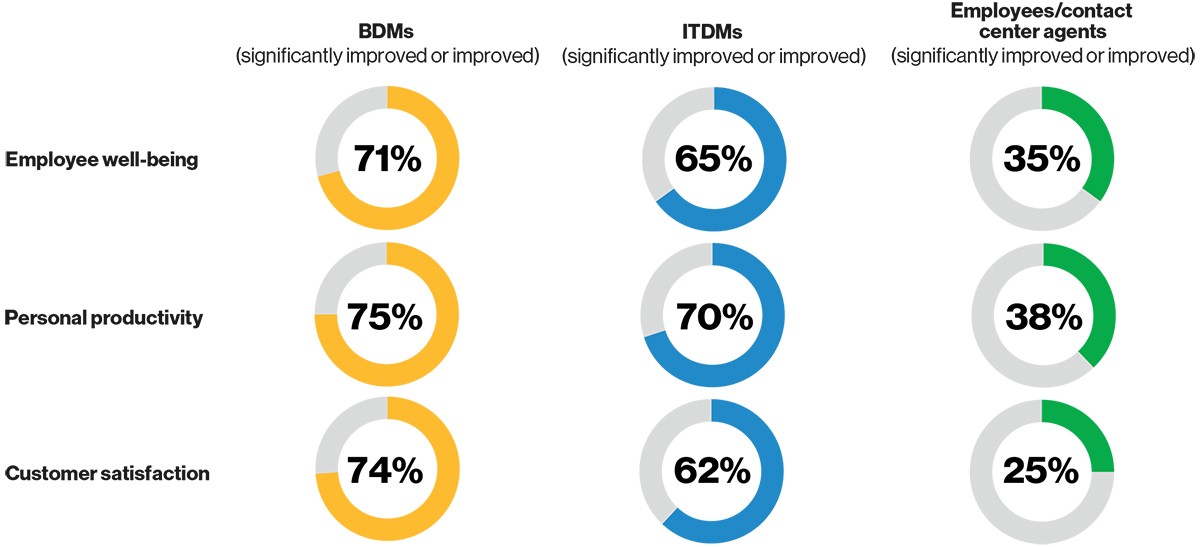 Get the latest on the future of work

As the flexible workplace model grows, the way you engage with customers and employees will need to evolve—keep up with curated emails.
The information provided will be used in accordance with terms set out in our Privacy Policy.
How do businesses reach their strategic goals when so many differences exist between employees' and decision makers' experiences and expectations? Because the workplace experience can determine your organization's success, closing the gap between the perceptions of employees, corporate leaders and IT decision makers is vital.
It's time to redesign the workplace. An essential aspect of workplace redesign is ensuring that workers receive a positive experience from recruitment to retirement. Businesses need to approach the employee experience (EX) with the same care with which they approach the customer experience (CX).
EX refers to every event across an employee's tenure with an organization and requires a multidisciplinary approach. In the full report, we look at three components of EX: people, process and technology. We touch briefly on those here.


People
Businesses should learn from their CX colleagues and use tools like journey mapping to guide and shape EX. Segmenting a workforce based on role, or "work style," is vital to understanding how employees can be better enabled, empowered and engaged.
The report shows how designing work-style-based IT solutions can help employees perform their best and help your business reduce the risk of bad technology investments.

Work Style



Tethered



Nomad



Hybrid

Description

Based in a single location, such as an office, store or factory

Frequently on the move, often across multiple locations

Spread their time between remote locations and the office

Roles

Retail assistant
Hospitality worker
Factory employee

Delivery drivers
Field service workers
Photographers

Business administrators
Chief executives
Technicians
Contact center agents

Process
Employee journeys must consider the experiences that employees go through during their time with an organization, such as onboarding, performance management and team collaboration. The journeys should also factor in key life events, such as becoming a parent or a first-time manager.

Technology
Organizations need to involve employees in selecting the IT tools and services they use. Without employee buy-in, the technology ROI will never be realized. Unfortunately, our survey showed that the IT department made unilateral buying decisions in over half of organizations.


The period of Great Experimentation
Organizations are now in what we call a period of "Great Experimentation"—exploring how to reinvent work and optimize for CX, EX and stakeholders.
For many businesses, this may mean repurposing office space to help improve productivity, efficiency and flexibility. The report discusses ways to pivot using an activity-based working (ABW) approach to create a more effective work environment. For instance, rather than merely offering cubicles and meeting rooms, you might provide collaborative meeting spaces, quiet areas for focused work, mini phone booth rooms for private calls and open, creative spaces to encourage interaction.
Businesses should also consider the touch points (e.g., voice, email, chat and social) where potential clients can interact with their organization and ensure that they are equipped to manage customers' journeys effectively. The full report highlights how your peers are prioritizing IT investments to meet those needs.


Lead with insight
Effective leadership requires organizations to continually learn from what is working and what isn't, to engage all stakeholders in this learning process and to make the investments needed to succeed.
With the right insights and strategies, you can create lasting organizational change that will boost performance and help ensure positive employee and customer experiences.
52
%
The IT department makes unilateral buying decisions in 52% of organizations.