Overview
Verizon Frontline's Tactical Humanitarian Operations Response (THOR), a mobile, private Verizon 5G Ultra Wideband (UWB) and mobile edge compute (MEC) rapid-response command center vehicle is capable of deploying Verizon 5G Ultra Wideband along with additional Verizon Frontline technology, applications, and advanced computing solutions.
Use Cases
With capabilities ranging from mobile, private 5G UWB to satellite, to commercial and onboard drone options, to the ability to be operated remotely from a tablet, THOR could be considered the Swiss-Army Knife of Verizon Frontline services.
Even with 5G technology more accessible than ever, in some situations there is still an opportunity to enhance the network and technological capabilities of those in public safety and the U.S. military. First responders face the potential of coverage and technology gaps or an out-of-service network.
Verizon Frontline's THOR was designed to address these challenges by creating a vehicle that could provide public safety agencies or the Department of Defense with high-quality communications and applications under nearly any conditions.
Offering full radio interoperability and built on a uniquely-modified Ford F650 chassis, with a six-seat cab and three-seat rear command center, THOR can provide its own mobile network and also features capabilities ranging from commercial satellite options to the ability to be operated remotely from a tablet.
Able to integrate with commercial drone applications, THOR also has an onboard tethered drone to assist with disaster response and risk assessment missions.
Response efforts
187 wildfire deployments
187 deployments in support of first responders in 21 states for wildfire response.
To help enable mission-critical voice and data service during fire mitigation efforts in locations across the country, the Verizon Frontline Crisis Response Team delivered close to 2,000 Verizon Frontline solutions to public safety agencies in more than 120 communities in 2022.
64 hurricane deployments
64 deployments across 5 states for hurricane response.
The Verizon Frontline Crisis Response Team supported public safety agencies and the communities they serve during two major hurricanes: Ian and Nicole. Hurricane Ian alone saw nearly 400 Verizon Frontline solutions delivered to more than 70 public safety agencies in southwest Florida as they dealt with the aftermath of the storm.
Other additional deployments
Verizon Frontline solutions were also deployed in support of public safety agencies during:
Multiple search and rescue operations
Emergency response efforts during six major winter storms
Dozens of training exercises involving federal, state and local agencies
Major public events such as sporting events and airshows
THOR'S Hammer
THOR's (Tactical Humanitarian Operations Response) Hammer, is the latest in its line of next-generation public safety communications innovations.
Developed with dual-core network capabilities, which enable enhanced operational flexibility, the nearly 30-foot trailer is able to act as either a private 5G standalone (or non-standalone) network that can be managed locally from within the trailer.
THOR's Hammer is built to leverage the network and technology of Verizon Frontline, including Verizon 5G Ultra Wideband (UW), along with additional applications and advanced computing solutions such as network slicing capabilities.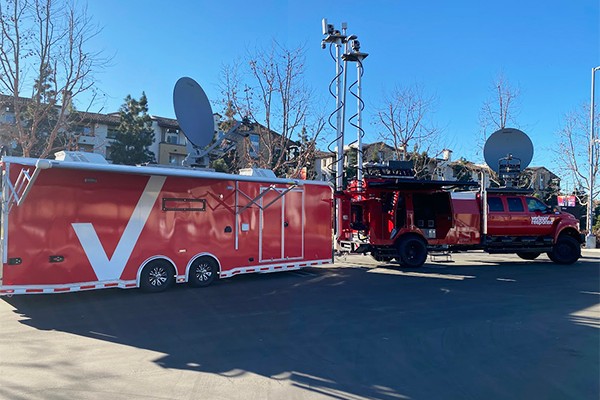 How THOR's Hammer could help


THOR's Hammer's 5G standalone core could also enable applications requiring near-real time responsiveness such as extended reality (XR) training or 3D mapping.

In addition to its standalone/non standalone network capabilities, THOR's Hammer will incorporate mission critical push-to-talk (MCPTT), land mobile radio (LMR) and private mobile edge compute (MEC) capabilities.

THOR's Hammer was built to operate independently or in tandem with THOR. For instance, THOR, or another deployable asset, could be used to extend THOR's Hammer's 5G standalone capabilities into areas the trailer can't reach. For example, THOR's Hammer could be positioned at an emergency operations center while THOR moves deep into a forest during a wildfire response effort.


Responding to a wildfire is just one example of where THOR's Hammer could help provide secure, reliable, standalone 5G Ultra Wideband coverage in areas where network connections and coverage can be challenging or where natural disasters like earthquakes or hurricanes have damaged existing infrastructure.
5G UWB
With speeds up 10x faster than 4G LTE, 5G UWB is safer than public WiFi and built for high volume, high data traffic situations.


MEC
Built for innovation, our 5G Edge technology enhances applications by hosting them at the edge of the network—closer to your devices and endpoints. This helps lower response times and boost performance, so you can collect, process and analyze your data faster.
General inquiries

844.899.0694