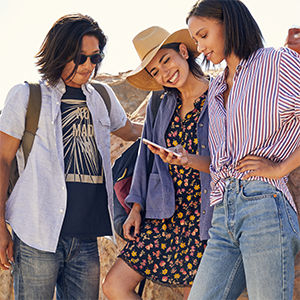 The free GroupMe app lets you set up multiple texting groups, so you can have a private chat among your fellow movie buffs, reminisce with your college friends, create a dedicated group for all your cousins and more. Set a picture for each group profile to easily identify them. GroupMe allows you to share photos, animated GIFs, videos and your location, and if you want to send information privately, just tap that friend's avatar for a direct private message. You can also "like" messages in GroupMe, and your friends don't even need the GroupMe app—anyone can chat with groups over SMS.
Send photos, emojis, map locations or messages to friends with Google+ Hangouts. Start a phone call with a friend from your computer or turn any Hangout into a live video call with up to 10 friends and keep the conversation going on multiple devices. The video calls ring everywhere your friends have the Hangouts app downloaded—smartphones, tablets or computers. If they can't pick up, they'll receive a notification that you were trying to reach them.
While Facebook helps you keep in touch with friends and family, Facebook Messenger can also help you chat with them as well. Gather groups of friends together to share specific links or events, make plans and more. You can even keep in touch with friends you haven't seen in awhile, or new friends you've met on the internet.
The Voxer app lets you have a conversation with friends across the world from your smartphone or desktop computer. Send walkie-talkie-like voice messages, text messages, photos and locations in one-on-one or group chats.
Chat with friends instantly via voice, text, photo or video messages with WeChat. Share, like and comment on photos or WeChat Moments with your friends. You can also find new friends nearby to start a new conversation. Create live group chats and invite your friends to a WeChat group via QR code (available in the latest versions for iOS and Android™). Use the walkie-talkie mode with up to 40 friends.
Stay in touch.
Don't suffer through sending the same text individually to multiple people. Take advantage of these group chat clients to keep everyone in the conversation around the world. And with Verizon, America's most awarded network, you know your messages will get where they need to go.