Make a return
You may return or exchange wireless devices and accessories within 30 days of purchase. A restocking fee of $50 may apply to the return or exchange of a wireless device.
You may exchange your device one time. For "Buy One, Get One" or similar offers, if you're only returning the "Buy" device, you must pay for the "Get" device. If only returning the "Get" device, no action is needed for the "Buy" device. Read more about our return policy.
We make sending back your device easy by enabling you to print free return labels. To print a return label while logged in to My Business Wireless, you must have eligible user role permissions (Primary Contact, Admin, Analyst or Buy), and the original order(s) must have been placed within the last 30 days.
Navigate to Manage > Orders > View Order Status
In the Orders column, click View Orders
On the View Orders page, search by the order number or by the wireless number

Click the Plus sign icon to open the wireless number information, if needed

Under "Return Label Requested," click Reprint (the Reprint link is available for 35 days after completed orders)
Click Continue
Enter your address and contact phone number, and click Continue
Click Print this label, then click Open below if you want to print your return label, or Save if you want to save the return label PDF to your computer
Email or print your PDF.
Email and print functions are done within your saved document, not in My Business Wireless, so you should follow the on-screen prompts within your chosen PDF manager application.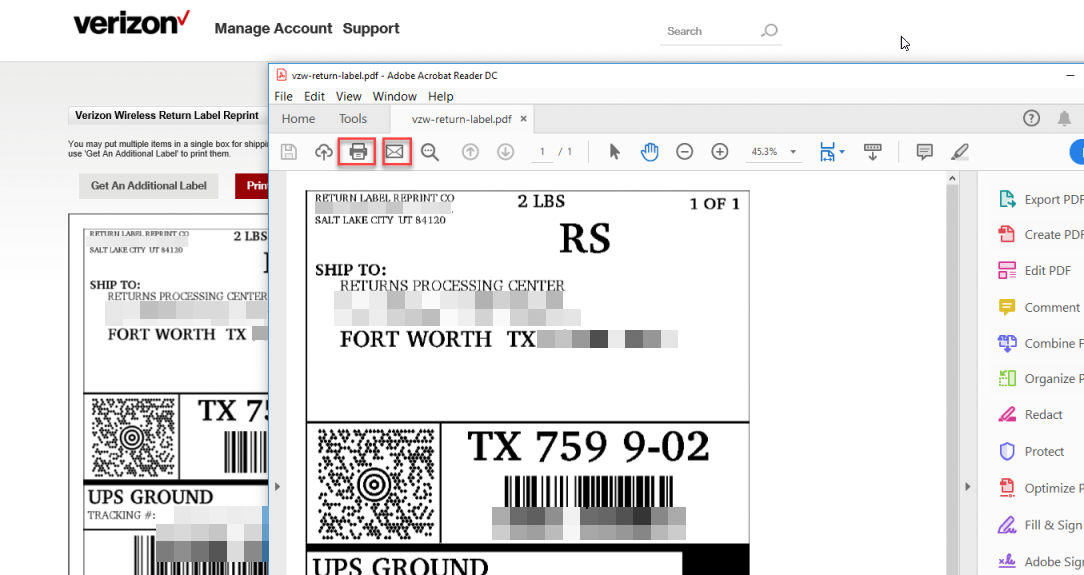 To avoid being billed an unreturned equipment charge, please return all your Verizon internet equipment within 30 days of the day your service is disconnected.
To return your equipment:
Return rented equipment to your nearest Verizon store or UPS Store
You do not need to box up equipment since equipment serial numbers will be scanned and returned to Verizon (be sure to get a receipt for your records)
Contact Verizon at 1.800.Verizon (1-800-837-4966) if you have any questions



Additional support

Visit our Customer Learning Portal for even more training and resources related to Verizon Business products, systems and tools.