View and manage your wireless lines
You can use the Line Overview pages to view and manage the individual wireless lines within the wireless accounts you are assigned to manage. To access Line Overview pages when logged in to My Business Wireless, navigate to Manage > Account > Services > Manage wireless numbers and then click the wireless number you want to manage.

Watch our Line Overview page video for a quick intro on how to use the page. Then watch our How to Manage Phone Numbers video for information on how you can make plan changes, feature changes, activate equipment and more.
Line Overview pages give you one-click access to a line's information by clicking on the tabs in the navigation bar.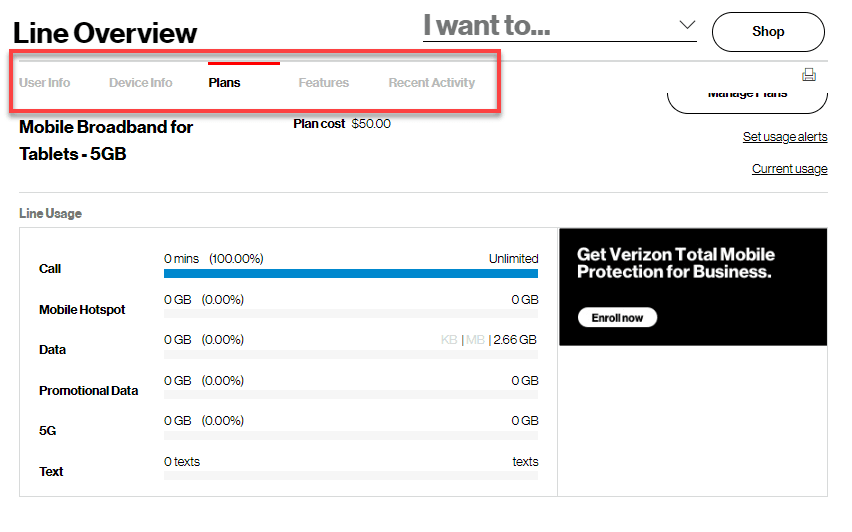 User Info tab
View the line's associated user information from this tab, such as address, wireless user ID, alternate contact numbers and email address.
From this tab, you can also:
Change a user's information by clicking the section's Edit button
Start a transfer of service by clicking the Change billing responsibility link
From the User Info tab, users with the necessary permissions can also change a wireless user ID and cost center.
Device Info tab
This tab displays information on the device, such as its status, ID, contract length and upgrade date. It also provide links to allow you to do the following:
Suspend, resume or disconnect a line
Access call and message blocking
Manage call forwarding
Reset your voicemail password
Buy accessories
Plans tab
The Plans tab shows your plan name and cost, along with a chart displaying your talk, text and data usage, including 5G and promotional data. It also provides quick links to:
Manage plans
Set usage alerts
See current usage
Features tab
The Features tab provides easy-to-read tiles for all of your line's features and associated costs. It also lets you know whether they are line-level or account-level features.
To see features automatically included with your line, click the + sign. To change or add features, click the section's Manage features button.
Recent Activity tab
This lists all of the line's recent My Business Wireless transactions by date, transaction type, transaction number and status (Complete, Pending, etc). To see the complete details of a transaction, click on its transaction number, and it will take you to its Transaction History page.
This tab also provides quick links to:
View all transactions
View all orders
The left side of your Line Overview page displays all the lines on your account. You can search for a specific number with the search bar or use the Filter to search by line status, upgrade eligibility, brand and device type.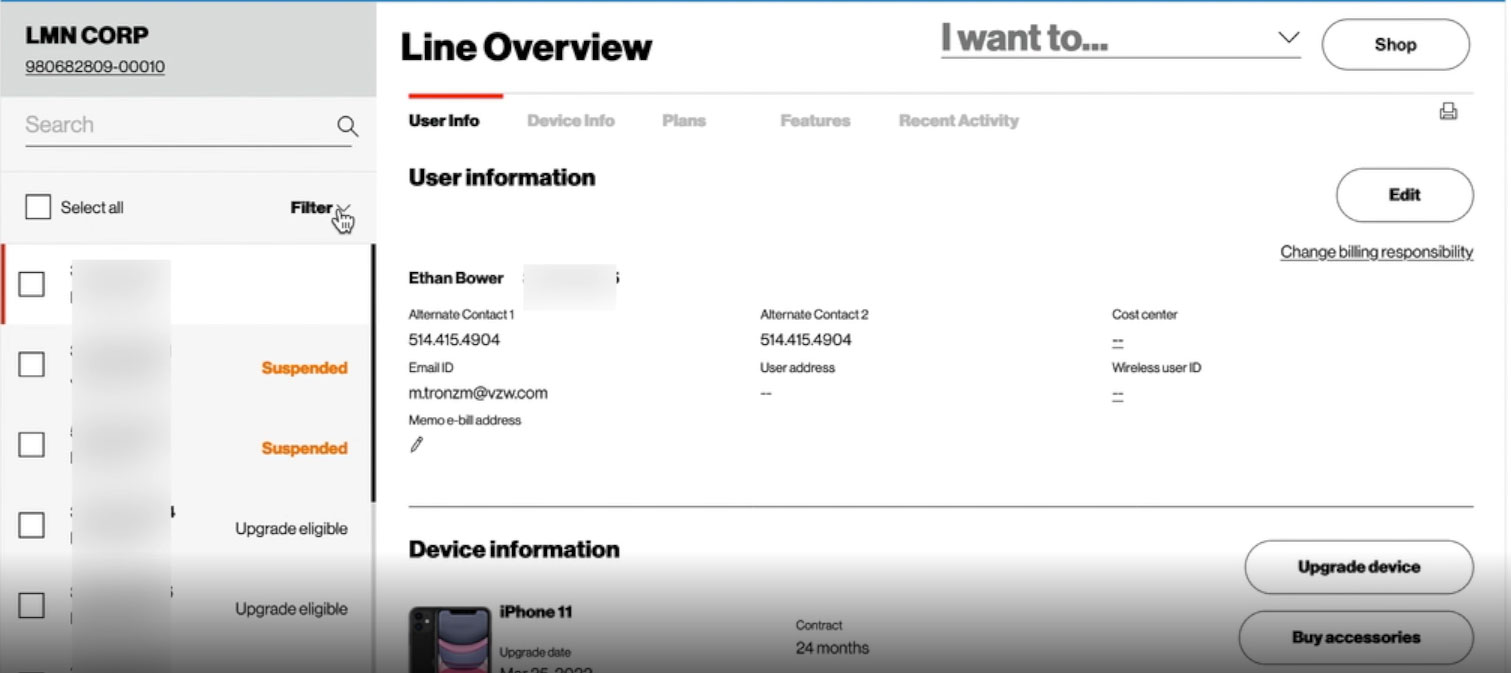 You can then select one or more numbers and choose to perform specific actions from the I want to... dropdown, including plan changes, feature changes and more.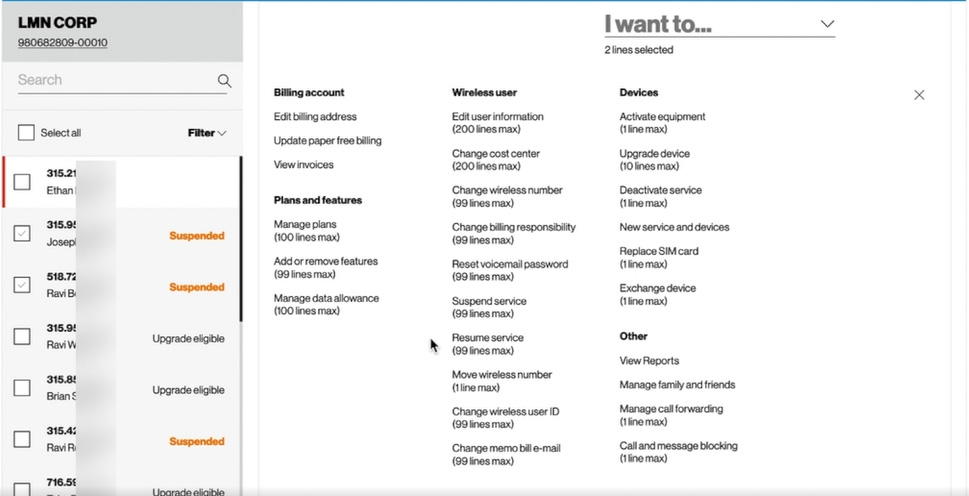 You can also access the I want to... dropdown from the navigation bar, and it provides you access to all the same plans and features, wireless user, devices and other management capabilities used for managing your accounts, as well as giving you the added ability to manage and view a line's billing settings and information (e.g., billing address, paper-free billing, invoices, etc.).



Additional support

Visit our Customer Learning Portal for even more training and resources related to Verizon Business products, systems and tools.