View and manage your wireless accounts
On the All wireless numbers page, you can view and manage the wireless accounts you are assigned to manage. This page is your go-to resource for most things related to the lines of service across your account.
To access the All wireless numbers page when logged in to My Business Wireless, navigate to Manage > Account > View wireless numbers.
The navigation bar at the top of the page helps you find what you're looking for through search, as well as by filters, groupings and display columns that you can customize.

Search lets you search by wireless number, wireless user ID, wireless username, account number, device ID, SIM ID and cost center.
Filter by lets you filter results by line status, upgrade eligibility, device capability (including 5G), brand and device type.
Group By lets you sort items by billing account, upgrade eligibility and cost center.
Select Columns lets you choose up to six different columns to display, including wireless number, user ID, billing account, wireless ID, equipment model, device ID, cost center, upgrade eligibility and SIM ID.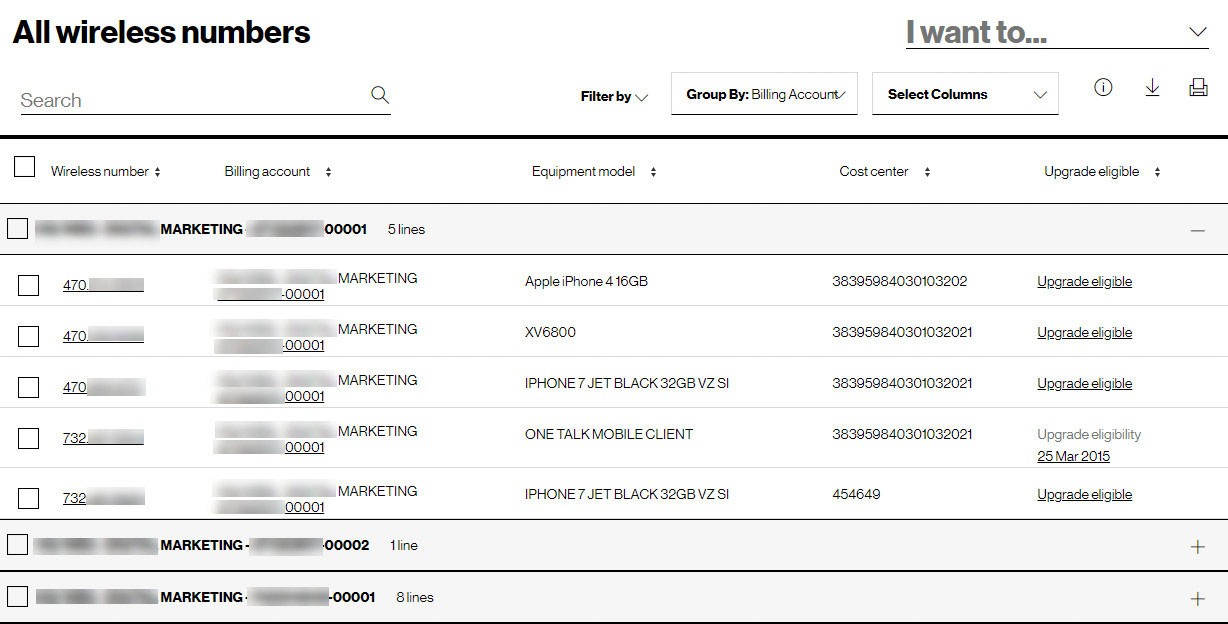 Column links also give you a powerful way to find and access different things. For example, click on a:
Column to sort wireless lines by that category
Wireless number to go to its Line Overview page
Account number to go to its Account Overview page
Upgrade eligible item to shop for a new device
Click the Download icon or Print icon on the navigation bar to get a digital or hard-copy version of what's displayed on the screen.
You can gain access to a variety of account management functions by clicking the I want to… dropdown menu above the navigation bar and choosing from the different menu options.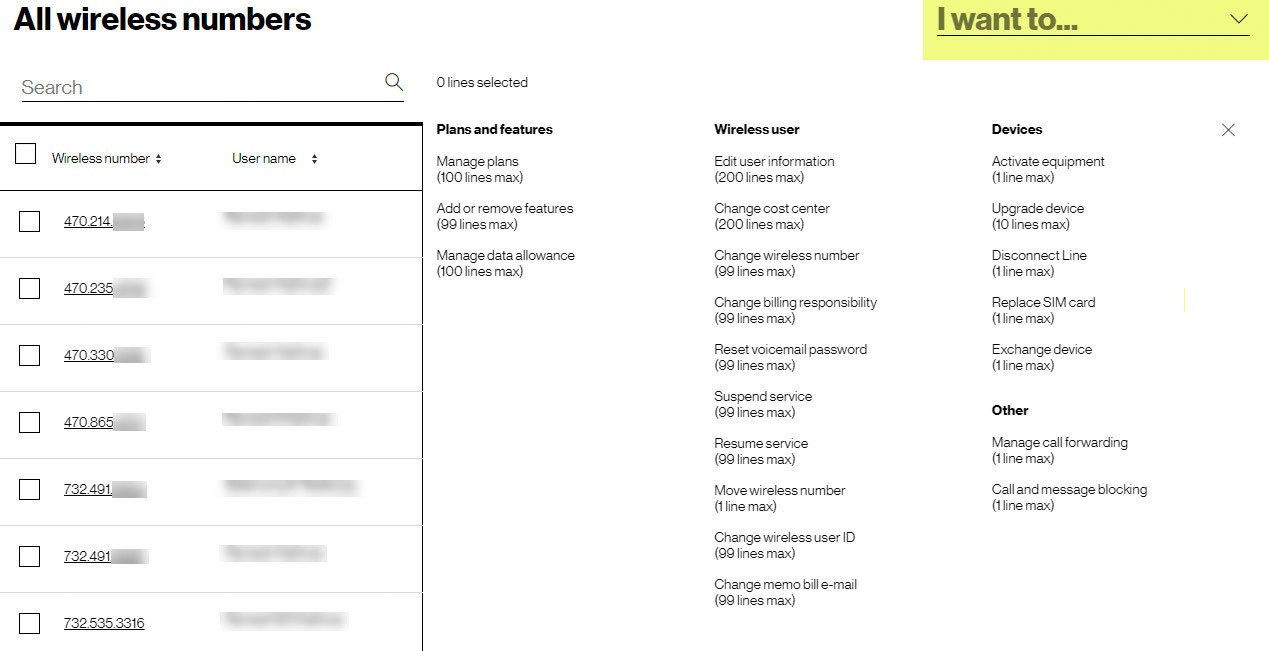 The Plans and features menu option lets you:
Manage your plans
Add or remove features
Manage data allowances
The Wireless user menu option lets you:
Edit user information
Change a cost center
Change a wireless number
Change the billing responsibility
Reset a voicemail password
Suspend or resume service
Move a wireless number
Change a wireless user ID
Change a memo bill email
The Devices menu option lets you:
Activate equipment
Upgrade a device
Disconnect a line
Replace a SIM card
Exchange a device
Add or remove features
Manage data allowances
The Other menu option lets you:
Manage call forwarding
Update call and message blocking
Each displayed menu option also indicates how many wireless lines that specific management feature can change or update, such as Manage plans (100 lines max) or Change wireless user ID (99 lines max).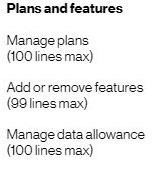 If you're an account admin who manages two or more Company IDs in My Business Wireless, you might want to consider using Linkset to more easily manage those IDs. It lets you access accounts and navigate between Company IDs in My Business Wireless using a single user ID and password in one browser window, as well as run reports across multiple companies and create and manage users.
When using Linkset, your active Company ID will display at the top right of the My Business Wireless home page as well as to the right of your lines and orders.
To switch between companies:
Click Switch Company
From the list of Company IDs that display, click the radio button next to the desired Company ID
Click Confirm
Note: You can also use the dropdown menu to sort by Company Name instead of Company ID.

To set the default company that you see on the My Business Wireless home page when you log in, do the following:
Click your name in the upper right corner of the screen
Click My Profile
Next to Default profile, click setdefaultprofile
On the pop-up window, click the radio button next to the company you want as your default
Click Save

To use Linkset, you must have access to all accounts on the Company ID. To get Linkset set up, you need to talk to your Verizon sales and support team, or call 1.800.922.0204 to get the process started and to get a new user ID and password for Linsket.



Additional support

Visit our Customer Learning Portal for even more training and resources related to Verizon Business products, systems and tools.