Due to inactivity, your session will end in approximately 2 minutes. Extend your session by clicking OK below.
Due to inactivity, your session has expired. Please sign in again to continue.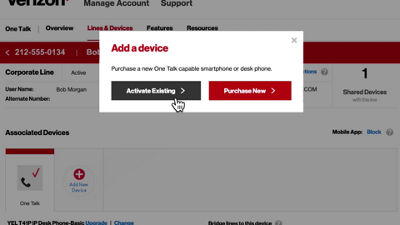 This video outlines the key set-up steps to get the most out of your One Talk features and services.
one-talk-first-steps-video:

Video Transcript
One TalkSM First Steps (5:22)
This video outlines the key steps to get the most out of your One Talk features and services.
Within 24 hours of purchasing One Talk, a Verizon consultant will call you to review your order and answer any questions you may have. We will briefly review these important steps in this video, but for more in-depth information, see the other One Talk videos for each of these topics.

If you placed your One Talk order through a Verizon retail store, a Verizon B2B specialist, or one of our authorized partners, you should be able to see your initial lines and devices when you first log in to the One Talk admin portal on My Business.

One Talk gives you the flexibility to issue company-owned lines and devices to employees, or allow your employees to use their personal number and device with the One Talk App.

Make sure that you have enough lines - for the business and your individual employees. Dedicated telephone numbers are also necessary for an Auto Receptionist and Hunt Groups.

For current One Talk users with a mobile device, operating the One Talk dialer or mobile app, anytime you are adding a desk phone it is important to first assign the appropriate telephone line, by selecting Add New Device from the line details page.

This is also the best time to set the 911 address for any new business desk phones. This is the physical address where you would want to receive emergency services.

For more details on either of these steps, see the videos Adding a Device to an Existing One Talk User and Setting Your 911 address.

Confirm current User Info for each user and line. On the Overview tab, select the quick task button Set-up User Info. The User Name is what will appear in Desk phone displays. An accurate email address is critical to ensure proper delivery of an activation PIN for the mobile app. Extensions are required if you want to use four-digit dialing. Calling ID sets the outgoing name or number of the caller. For more details, see the video Managing User Information.

You can order additional lines or equipment from the portal. These might include adding a new line for a One Talk dialer on a smartphone, ordering a new desk phone, adding the One Talk service to an existing Verizon mobile line, or authorizing employees to use their personal devices with a One Talk Mobile App.

To add an employee-owned device to One Talk you would use the quick task button to preauthorize that line for the employee. Preauthorization is limited to users with a Verizon Wireless mobile device capable of operating the One Talk dialer. For a list of qualifying devices, see the FAQ.

It's important to understand when your service will be available to use. New telephone numbers can be used as soon as the device assigned to that number is connected. This applies to new mobile phones, desk phones, or the One Talk app on mobile devices. Adding One Talk to an existing Verizon Wireless Telephone number allows you to start using the service immediately.

When bringing an active telephone line from another carrier to use on One Talk, known as "porting a line," the timeline for availability is different. Lines ported from any wireless carrier are typically available to use within 4 to 24 hours. Lines ported from wireline services can take from 2 to 10 days to move, although most lines port within 2-4 days.

It is recommended that you follow these steps:

First, leave your old desk phone plugged in until the porting is completed.

Second, make sure your new One Talk desk phone is installed and connected for service as soon as it's received.

Connecting prior to the port will allow you to place calls on the new line immediately, while incoming calls still go to the old phone.

When the new phone starts to receive incoming calls on that number, you will know porting is complete. You can unplug your old desk phone and contact your previous provider to discontinue your service and billing.

Setting up schedules determines incoming call routing during and outside of business hours. You can use default settings or customize them for your business operation.

In Quick Tasks, select View/Update Schedule then Create Schedule. For more detailed information, see the video Setting Up Schedules.

Setting up an automated receptionist ensures your customer calls always get answered. On the One Talk overview page, click View/Manage Automated Receptionist. If you currently do not have an automated receptionist number, you can get one by clicking Purchase Automated Receptionist. For more detailed information, see the video Setting Up Automated Receptionist.

Setting up a Hunt Group allows you to direct a customer call to a group of lines. Click View/Manage Hunt Group from quick tasks. If you don't have a Hunt Group line reserved, get one by clicking Purchase Hunt Group. For more detailed information, see the video Setting Up a Hunt Group.

If you need additional assistance, please refer to the One Talk Resources Support page.

Connect with us on Messenger

Visit Community
24/7 automated phone system: call *611 from your mobile