Due to inactivity, your session will end in approximately 2 minutes. Extend your session by clicking OK below.
Due to inactivity, your session has expired. Please sign in again to continue.
Signing into a Jetpack Admin page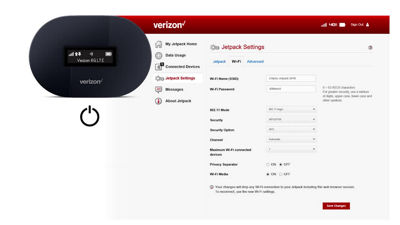 Watch this video for easy to follow instructions on how to find and sign into a Verizon Jetpack Admin Page.
troubleshooting-sign-into-jetpack-admin-video:

Video Transcript
Signing into a Jetpack Admin page (2:00)
There may come a time where you need to change your Wi-Fi password or customize other settings on your Verizon Jetpack. To make changes like these you need to access the Jetpack's admin page.

The admin page is similar to the settings on your smartphone. It contains many menus with options that relate to the Jetpack's performance; and yes, as long as you can power on the jetpack you're able to access the admin page even if you can't get to other websites.

To access the Admin page you'll need a wifi enabled device that has internet browsing capabilities, like a computer, tablet, or even a smartphone! Then you'll connect your device to the wi-fi signal broadcasted by the jetpack.

If you need to locate the Wi-Fi password to your Jetpack, you can typically find it on the jetpack's display screen or the barcode sticker on your Jetpack.

Once your device shows the jetpack is connected via Wi-Fi, open a web browser on your device and go to http://my.jetpack or type the IP address 192.168.1.1

You'll know you're on the correct page because of the Verizon branding.

If you get an error message stating the page cannot be found, make sure you've typed the correct address and that you're connected to the Jetpack and not a different Wi-Fi source, like your home network.

Once you see the admin page, simply sign in by entering the admin password located on the jetpack's external display.

This will complete the login process and applies to all current Verizon Jetpack devices. From this page you'll be able to view options and make changes. If you're unable to connect to your jetpack, the jetpack won't power on, or you have other connectivity concerns, additional help is available on the troubleshooting assistant located at verizonwireless.com/support/troubleshooting.

Connect with us on Messenger

Visit Community
24/7 automated phone system: call *611 from your mobile